smoked chorizo, maple and sweet potato hash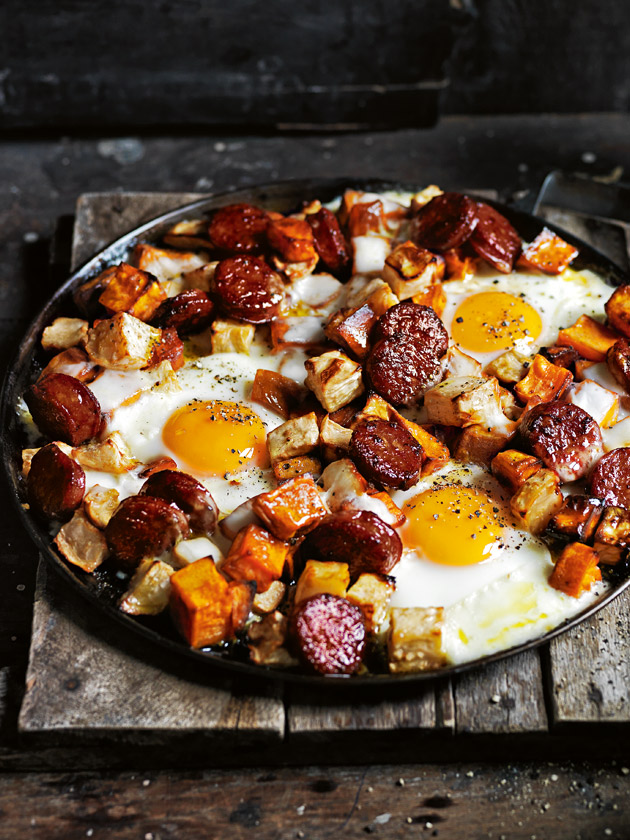 1 medium (500g) sweet potato (kumara), peeled and chopped

1 medium (450g) celeriac, peeled and chopped

2 tablespoons maple syrup

2 tablespoons extra virgin olive oil

sea salt and cracked black pepper

1 smoked chorizo (130g), sliced

3 eggs

150g stracchino+, chopped

Preheat oven to 200°C (400°F). Place the sweet potato, celeriac, maple syrup, oil, salt and pepper on a large oven tray lined with non-stick baking paper. Cook for 25 minutes, add the chorizo and cook for a further 10 minutes or until golden and crisp. Preheat a grill (broiler) to high.
Place the sweet potato mixture and chorizo in a large baking dish. Crack the eggs onto the mixture++ and top with the cheese.
Cook for 5–6 minutes or until eggs are just set and the cheese is melted. Sprinkle with pepper to serve. Serves 2.
+ Stracchino is a young Italian cow's milk cheese. Find it at delicatessens and cheese stores. You can use taleggio if it is unavailable.
++ Make a well for each of the eggs in the potato mixture before you crack the eggs – this will help them hold their shape.
There are no comments for this entry yet.