sticky beef ribs with salted black beans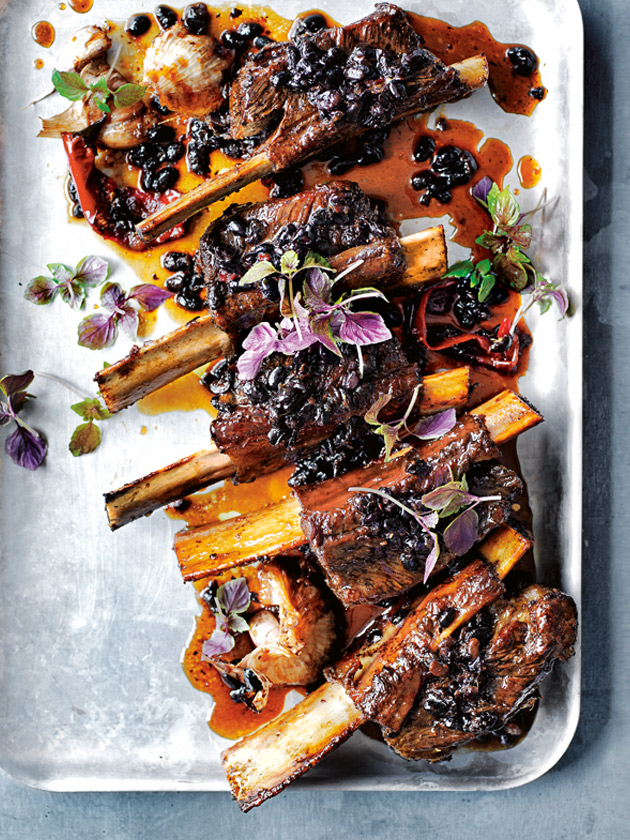 2kg beef ribs

⅓ cup (45g) salted black beans+

1½ cups (375ml) water

2 bulbs garlic, halved horizontally

1 tablespoon grated ginger

½ cup (90g) brown sugar

¼ cup (90g) honey

1 long red chilli, halved

micro (baby) purple shiso leaves, to serve

Place the ribs in a large saucepan of cold water over high heat, cover with a lid and bring to the boil. Reduce the heat to low and cook for 1 hour or until tender. Carefully remove the ribs, discarding the liquid.

Preheat oven to 200°C (400°F). Place the ribs, black beans, water, garlic, ginger, sugar, honey and chilli in a large deep-sided roasting pan. Cover with aluminium foil and cook for 45 minutes. Remove the foil and carefully turn the ribs. Cook, uncovered, for a further 30 minutes or until sticky and glossy.

Top with shiso to serve. Serves 4.

+ Salted black beans are soy beans that have been fermented. Find them in bags or cans at Asian grocers and specialty food shops.
There are no comments for this entry yet.