chicken and cashew massaman curry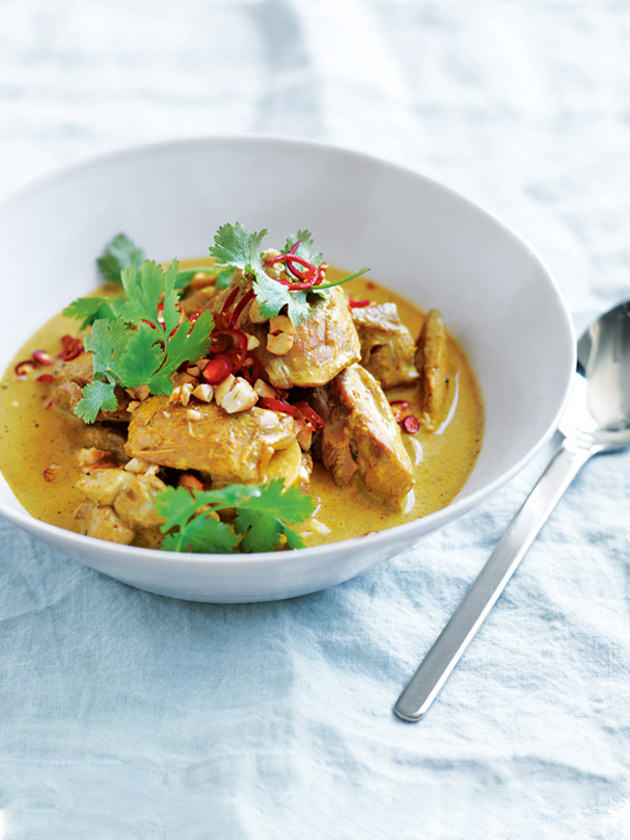 1 tablespoon vegetable oil

8 skinless boneless chicken thighs (1kg), cut into 3cm pieces

sea salt and cracked black pepper

½ cup (150g) store-bought massaman curry paste

250g baby (chat) potatoes, thinly sliced

400ml can coconut milk

1 tablespoon lime juice

1 tablespoon fish sauce

1 cup coriander (cilantro) leaves

½ cup (75g) cashews, toasted and chopped

1 red bird's-eye chilli, thinly sliced

steamed rice (optional), to serve

Heat the oil in a large shallow saucepan over high heat. Sprinkle the chicken with salt and pepper and cook for 5 minutes, turning, or until golden brown.

Add the curry paste, potato and coconut milk and cook, covered, for 10 minutes or until the potato is tender.
Remove the lid, stir in the lime juice and fish sauce and cook for 5 minutes or until the liquid is reduced slightly.

Divide the curry between serving bowls and top with the coriander, cashew and chilli. Serve with rice (if using). Serves 4.

donna hay team
Yes, Suzan – you might need to add a fresh herb like mint or thai basil and a little lime juice, to compensate for flavour. Enjoy! The DH Team.
Suzan Vasica
I don't do coriander leaves or fish sauce. Will it still be ok without?
Melanie Payne
I couldn't get the Massaman curry paste in the brand I wanted so I substituted it for Butter Chicken paste. My partner said it was the best curry he's ever tasted.
I've also made curry recipes in the slow cooker and put all ingredients in together and always a winner.
donna hay team
Hi Ebony, unfortunately we have not tested this recipe in a slow cooker but I am sure that if you follow the manufacturer's instructions for something similar you could test it! Good luck! The dh team
Ebony McAlpin
Can I use this recipe but cook it all I the slow cooker?
Jenece Robinson
Probably the best curry I have ever had. Loved it and so simple
Fiona Thyne
Quick, easy and delicious. Fantastic recipe