caramel sticky date cookies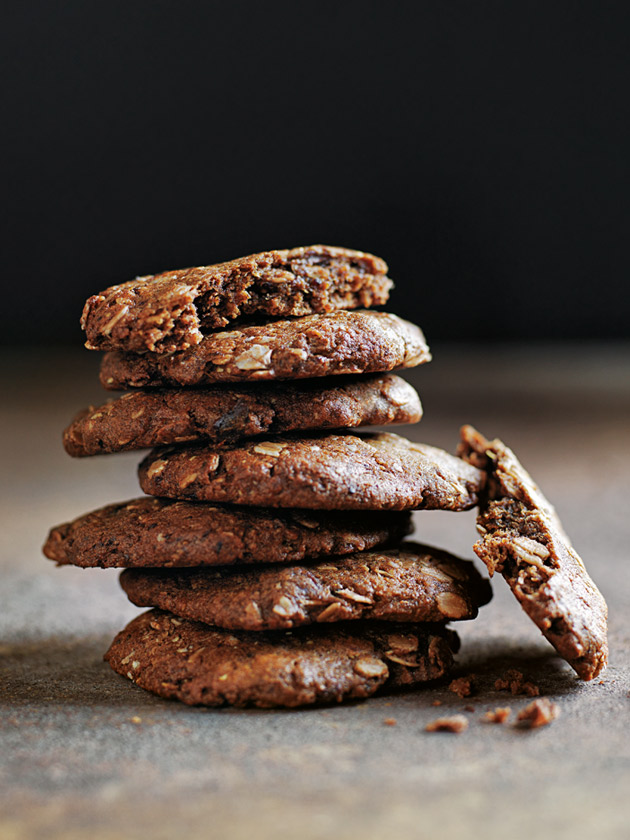 1½ cups (360g) firmly packed chopped pitted fresh dates (about 15 dates)
½ cup (85g) brown sugar
125g unsalted butter or coconut oil

1 teaspoon bicarbonate of (baking) soda

1 cup (140g) wholemeal spelt flour

1 cup (80g) spelt flakes

1 egg

1 teaspoon ground cinnamon

1 teaspoon vanilla extract

Preheat oven to 160°C (320°F).
Place the dates, sugar and butter in a small saucepan over medium heat and stir until the butter is melted. Cook, stirring, for a further 5 minutes or until the dates are soft. Add the bicarbonate of soda, mix to combine and set aside to cool.
Place the flour, spelt flakes, egg, cinnamon and vanilla in a large bowl. Add the date mixture and mix to combine.
Divide and shape the mixture into 2-tablespoon balls, flatten slightly and place on baking trays lined with non-stick baking paper. Bake for 12–14 minutes or until golden.
Allow to cool on trays. Store cookies in an airtight container for up to 1 week. Makes 12
+ Soft and chewy, these cookies make the perfect afternoon snack.
Nabeela Aijaz
These cookies are FABULOUS!! I used pretty small and dry dates (zahidi), and as such needed about 52 of them to weigh 360 gm pitted. The caramel flavor is front and center. I used oat flakes for the spelt flakes, as recommended as a good substitution in the comments.
donna hay team
Hi Lucy, you could substitute spelt flour for plain flour, however we have not tested the recipe like this. You may find the mixture could have a slightly wetter consistency when trying to shape the cookies. Happy baking! the dh team
donna hay team
Hi Alyssa, you can find spelt flakes in most health food stores, however if you not, rolled oats are a good alternative. Happy baking! the dh team
Alyssa Payne
I can't find spelt flakes anywhere- do you know where I can find them or can you suggest an alternative? Thanks!
Lucy Kravaris
Can I use plain Flour instead of Spelt, my boys are so fussy. TIA