pear and almond tart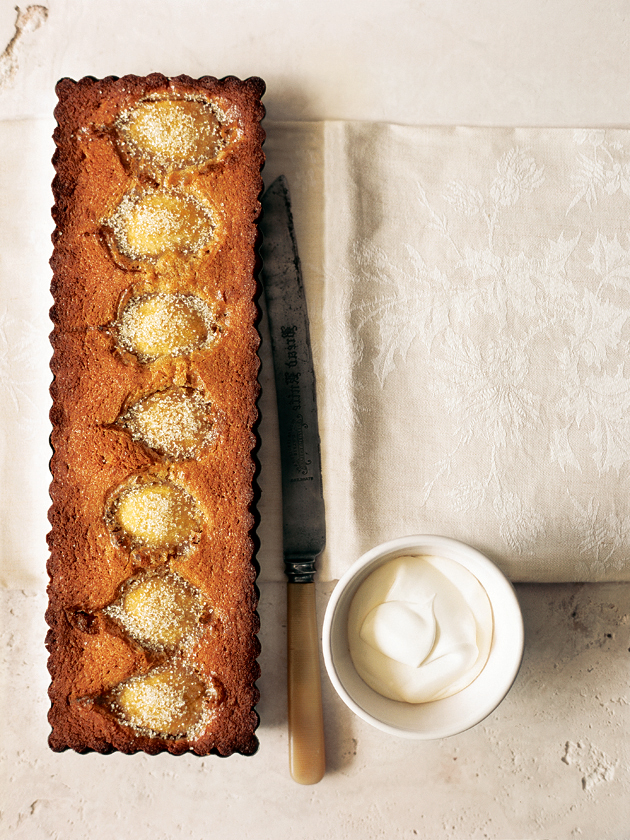 90g butter, softened
½ cup (90g) brown sugar
2 eggs
1 cup (120g) almond meal
¼ cup (40g) plain flour
¼ teaspoon baking powder
2 teaspoons finely grated lemon rind
2 Packham's pears, peeled, cored and quartered
½ cup (90g) brown sugar, extra
raw sugar, for sprinkling
double (thick) cream, to serve

Preheat oven to 160°C (320°F). Place the butter and sugar in the bowl of a food processor and process until just combined. Add the eggs, almond meal, flour, baking powder and lemon rind and process until just combined.
Spoon the mixture into a lightly greased 9.5cm x 33cm loose-bottom fluted tart tin.
Place the pears and extra brown sugar in a bowl and toss to coat. Press the pears into the tart mixture and bake for 35–40 minutes or until cooked when tested with a skewer. Sprinkle with raw sugar and allow to cool in the tin. Serve with double cream.
Lynette English
I love this recipe, it's straight forward but looks and tastes fabulous. Have surprised and pleased many friends and family over a cup of tea or coffee. Have been always able to use whatever fruit I happen to have when folk turn up on short notice. Blueberries and raspberries combined worked a treat!
Jenny Cunliffe
Hi, I have made this numerous times with different types of fruits…use frozen cherries, raspberries and even tried plums and it's never failed me and always a winner!
amy knight
I was a little disappointed with this recipe, In my opinion its not really a tart.. more a cake… and lacked flavour, quite bland.