raspberry and chocolate
toasted meringue popsicles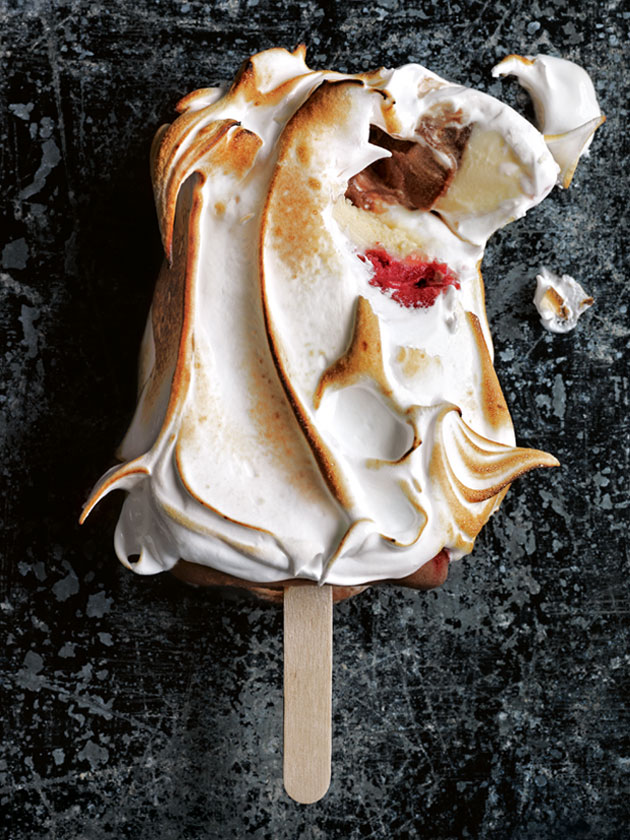 500ml store-bought vanilla ice-cream, softened slightly

250ml store-bought dark chocolate ice-cream, softened slightly

250ml store-bought raspberry sorbet, softened slightly

meringue
1¾ cups 385g) caster (superfine) sugar

¼ teaspoon cream of tartar

½ cup (125ml) water

150ml eggwhites (approximately 4 eggs)

Place a baking tray lined with non-stick baking paper in the freezer to chill. Working quickly, spoon the ice-creams and sorbet in alternating layers into 8 x ⅓-cup-capacity (80ml) popsicle moulds, making sure to press the ice-cream in to fill the moulds completely+.

Insert popsicle sticks and freeze for 8 hours or overnight, until completely frozen.

Remove the popsicles from the moulds and place on the prepared baking tray until ready to use++.

To make the meringue, place 1¼ cups (275g) of
the sugar, the cream of tartar and water in a small saucepan over high heat and stir with a metal spoon until just combined. Bring to the boil and cook for 4 minutes or until the sugar has dissolved and the mixture has reduced slightly.
While the sugar syrup is cooking, place the
eggwhites in the bowl of an electric mixer and whisk on high speed until soft peaks form. Gradually add the remaining sugar to the eggwhites and whisk until stiff peaks form.

With the motor running, add the sugar syrup in a thin, steady stream and whisk for 10 minutes or until thick, glossy and completely cooled.

Working quickly, spread ½ cup of the meringue mixture onto each popsicle and, using a kitchen blowtorch, torch until golden. Serve immediately. Makes 8.
+ It's important to fill the moulds completely, if there are any gaps in the ice-cream, the popsicles may crack when you try and remove them.
++ Hold the popsicle moulds under slightly warm running water to help easily remove the popsicles from the moulds.
There are no comments for this entry yet.