balsamic beef short ribs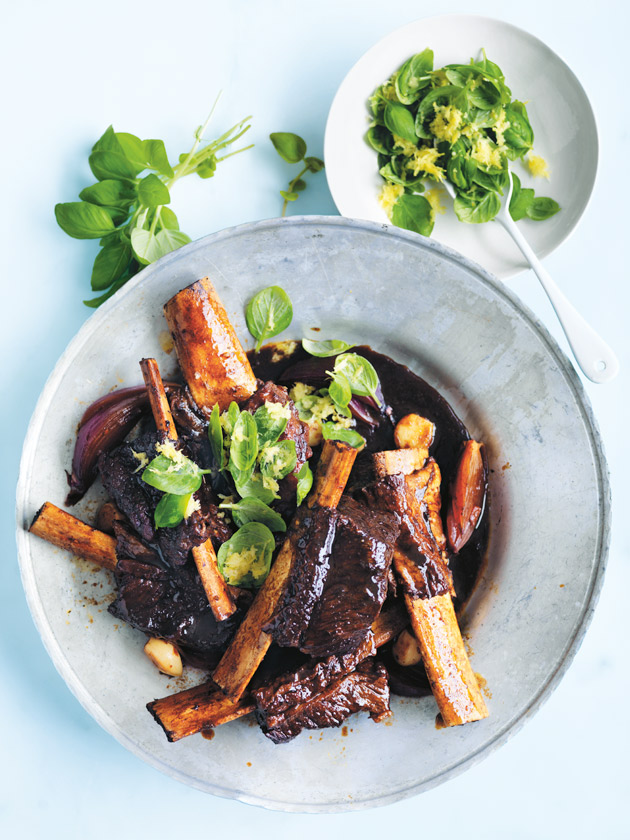 1.6kg beef short ribs

sea salt and cracked black pepper

2 red onions, cut into wedges

8 cloves garlic, peeled

6 sprigs oregano

1½ cups (375ml) balsamic vinegar

1 x 400g can chopped tomatoes

1 litre beef stock
basil gremolata
1 cup small basil leaves

1 tablespoon finely grated lemon rind

1 clove garlic, crushed

1 teaspoon extra virgin olive oil
To make the basil gremolata, place the basil, lemon, garlic, oil, salt and pepper in a bowl and mix to combine. Set aside.

Heat a large, deep heavy-based casserole dish over medium-high heat. Sprinkle the ribs with salt and pepper and cook for 4–5 minutes each side or until well browned. Remove from the dish and set aside.

Wipe the dish with absorbent paper, add the onion and garlic and cook for 5 minutes or until golden. Return the ribs to the dish with the oregano, vinegar, tomato, stock, salt and pepper, reduce the heat to low, cover and simmer for 2½–3 hours or until the beef is very tender. Remove the ribs from the dish and keep warm.

Strain the pan juices and skim the fat from the surface. Pour into a saucepan and simmer over high heat for 5–10 minutes or until the sauce has thickened. Divide the ribs between plates and spoon over the sauce. Sprinkle over the gremolata to serve. Serves 4
Photography: William Meppem
donna hay team
Hi Heidi, this sauce should thicken slightly when cooking for 5-10 minutes but this sauce is not meant to be a thick style sauce. Hope this helps.
Heidi P
Delicious flavour and meat falling off the bones. Unfortunately the sauce didn't thicken, after over 15 minutes of boiling. Not sure what went wrong there?
Hilary Stoneley
A delicious winter warmer. Lovely, rich, sweet-sour flavour. I would probably increase the cooking time a little next time to really break down the connective tissue in the ribs.