chilli salt and pepper squid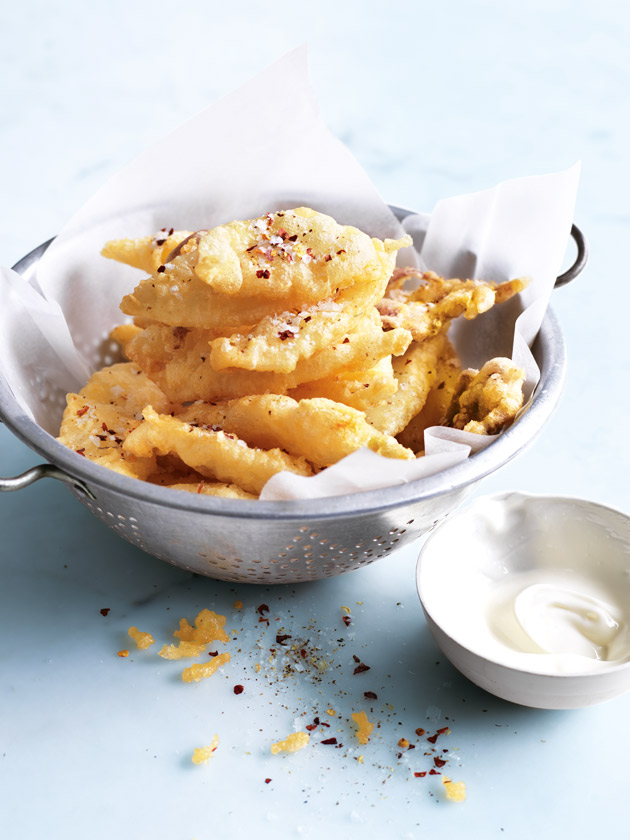 1 cup (150g) cornflour

½ cup (75g) self-raising flour

1¼ cups (310ml) cold soda water

½ teaspoon Sichuan peppercorns, ground

¼ teaspoon dried chilli flakes

2 teaspoons sea salt flakes

vegetable oil, for deep frying

500g small squid tubes, tentacles intact, cleaned and halved

¼ cup (35g) self-raising flour, extra

mayonnaise and lemon wedges (optional), to serve

Place the flours in a large bowl and slowly whisk in the soda water. Set aside for 10 minutes.

Place the peppercorn, chilli and salt in a small bowl and mix to combine. Set aside.

Fill a large saucepan three-quarters full with oil. Heat over medium heat until the temperature reaches 180°C (350°F) on a deep-frying thermometer.

Place the extra flour in a shallow dish. Working in batches, toss the squid in the flour, then coat in the batter. Cook for 3–4 minutes or until light golden. Drain on paper towel. Toss in the salt and pepper mixture. Serve with mayonnaise and lemon wedges, if using.
Serves 4.
TIPS + TRICKS
- For those who aren't keen on chilli, serve the salt and pepper mixture on the side.
- It is important to make sure that the oil is at the correct temperature – too low, and the batter will be soggy, too high, and the batter will brown too quickly before the squid is properly cooked.
There are no comments for this entry yet.