Thai green curry paste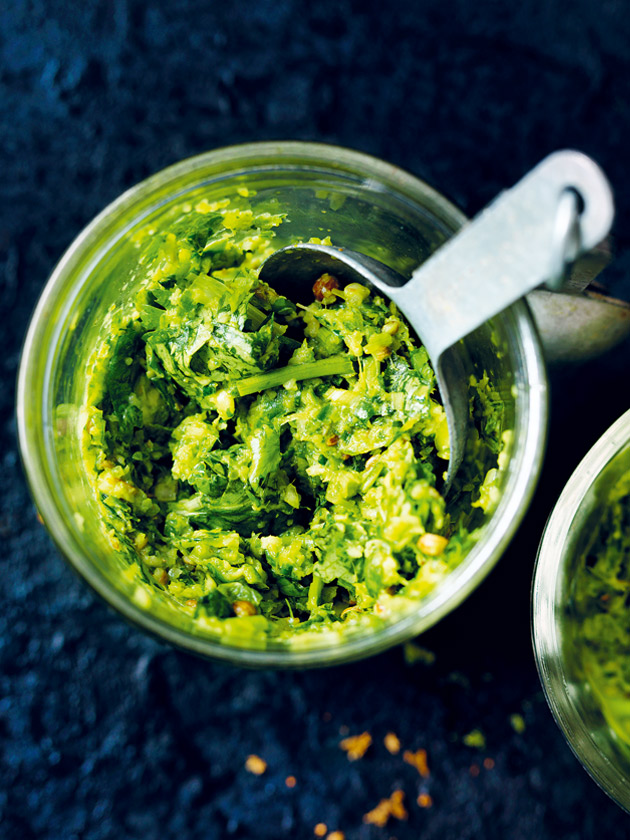 1 teaspoon cumin seeds

1 tablespoon coriander seeds

3 long green chillies, roughly chopped

2 cloves garlic

30g galangal or ginger, peeled and chopped

6 Thai lime leaves, stems removed and shredded

2 stalks lemongrass, white part only, thinly sliced

1 cup chopped coriander (cilantro) leaves, stems and roots+

1 tablespoon peanut or vegetable oil

½ teaspoon shrimp paste

1 tablespoon grated palm sugar or brown sugar

3 green onions (scallions), roughly chopped

Heat a small non-stick frying pan over medium heat. Add the cumin and coriander seeds and toast, shaking the pan frequently, for 2–3 minutes or until fragrant and light golden.

Place in a small food processor and process until ground.

Add the chilli, garlic, galangal, lime leaf, lemongrass, chopped coriander, the oil, shrimp paste, sugar and onion.

Process into a paste, scraping down the sides of the bowl. Makes 1 quantity
NOTE
+ You'll need approximately 3 roots (50g) of coriander to get 1 cup of chopped coriander.
TIP
Keep this curry paste in a jar in the refrigerator for up to 1 week.
donna hay team
Hi Lisa, This basic recipe makes one quantity of paste for our Fragrant Green Chicken Curry recipe (see recipe link below). You can freeze this paste for up to 3 months in an airtight container. Happy cooking! DH Team
Lisa Gibson
Hi I'm wondering if this is just enough for one meal? And Is it ok to make in bulk and freeze? Thank you
donna hay team
Hi Tammy, for the best flavour we recommend using fresh kaffir lime leaves. Hope this helps! The DH Team
Tammy Colleran
Can you use dried kaffir leaves or do they have to be fresh?