spaghetti bolognese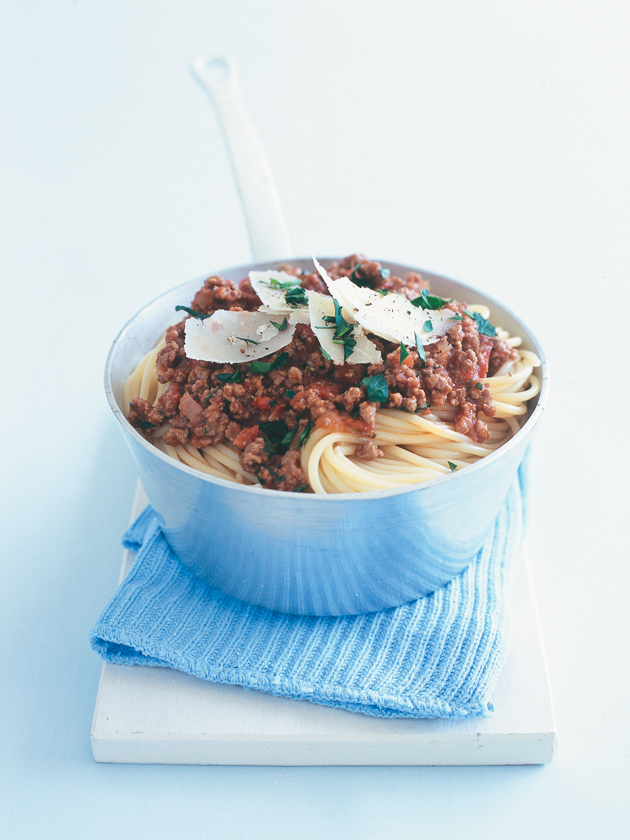 2 tablespoons olive oil
1 brown onion, chopped
2 cloves garlic, crushed
1kg beef mince
⅓ cup (90g) tomato paste
2 x 400 g cans chopped tomatoes
2 cups (500ml) beef stock
1 bay leaf
sea salt and cracked black pepper
400g spaghetti
flat-leaf parsley leaves, to serve
shaved parmesan, to serve

Heat a large deep frying pan over high heat. Add the oil, onion and garlic and cook for 1 minute or until the onion is soft. Add the mince and cook for 5 minutes, breaking up any lumps with a wooden spoon. Add the tomato paste and cook, stirring to combine. Add the tomatoes, stock, bay leaf, salt and pepper and stir to combine. Bring to the boil, reduce the heat to low and simmer for 1 hour or until thickened.

Place the pasta in a saucepan of salted boiling water and cook for 10-12 minutes or until al dente. Drain and keep warm. Divide between bowls and top with the Bolognese, parsley and parmesan. Serves 4.

Don Leith
Excellent recipe, I added one chopped up chilly which was hardly noticeable.
Cuzina 01
This is the only spaghetti bolognese my 16 year old daughter has eaten in her life. Ive made many since she was born, all have been rejected.
I added 4 tsps Tuscan seasoning and replaced tinned tomatoes with passata.
Bellissimo.
Thankyou!
Tara Cooper
Absolutely delicious! I added carrot and zucchini and blended it with the onion so the kids don't see it! Winning!!! They love it too! Great recipe
Catherine Francis
Love this recipe ... make this and usually freeze half for another meal later on. My 3 children always ask for this :D
Carman Ward
I will be using this recipe from now on… It was absolutely delicious…..a winner with everyone!
Marisa Tunjic
Yummy yummy yummy! I misread and added 700g jar of passta instead of 2 tins of tomato (thought it was tomato puree not chopped tomatoes) but everything else as per recipe. Everyone loved it and it is now our go to for the kids.