apricot lattice pie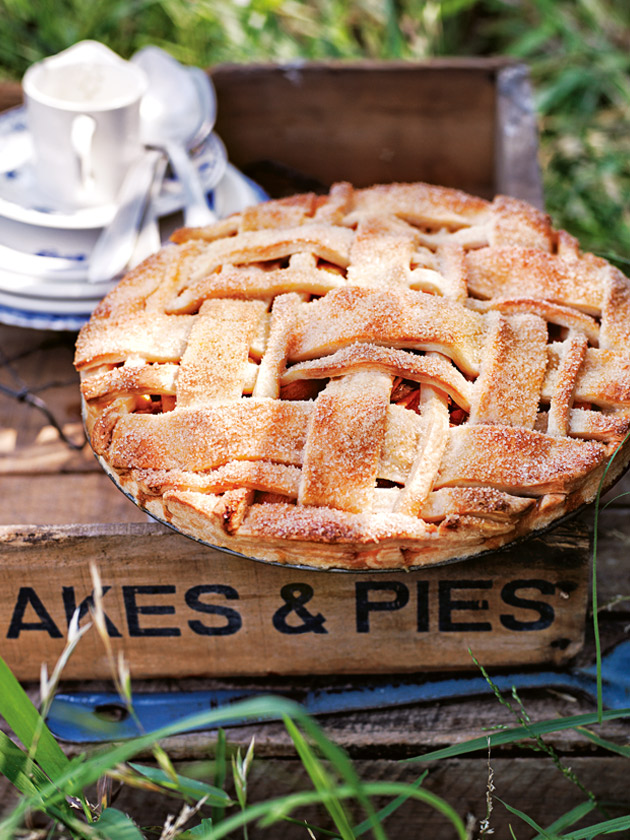 1kg ripe apricots, chopped

1½ cups (330g) caster (superfine) sugar

2 teaspoons vanilla extract

⅓ cup (50g) arrowroot

½ cup (60g) cashew meal (ground cashews)+

1 egg, lightly beaten

2 tablespoons raw sugar

large sweet pie pastry
4½ cups (675g) plain (all-purpose) flour

½ cup (110g) caster (superfine) sugar

1½ teaspoons sea salt flakes

185g cold unsalted butter, chopped

115g cold lard++, chopped

1½ tablespoons apple cider vinegar

¾ cup (180ml) iced water

To make the pastry, place the flour, sugar and salt in a large bowl and mix to combine. Add the butter and lard and, using your fingertips, rub into the flour mixture until it resembles fine breadcrumbs.

Add the vinegar and water and, using a butter knife, bring the mixture together to form a rough dough. Lightly knead to bring the dough together, shape into 2 discs and wrap each in plastic wrap. Refrigerate for 30 minutes or until firm.

Roll out 1 of the pastry discs between 2 sheets of lightly floured non-stick baking paper to 4mm thick and use to line an 18cm metal pie dish. Refrigerate for 30 minutes.

Roll out the remaining pastry disc between 2 sheets of lightly floured non-stick baking paper to a 3mm-thick, 40cm x 40cm square. Cut the pastry into 10 x 3cm-wide lengths and 8 x 1cm-wide lengths. Place on baking trays lined with non-stick baking paper and refrigerate until needed.

Preheat oven to 180°C (350°F). Place the apricot, caster sugar, vanilla and arrowroot in a large bowl and mix well to combine. Spread the cashew meal in the base of the pastry case and top with the apricot mixture. Use the pastry strips to create a lattice pattern (see note).

Press the edges to seal, trimming any excess pastry. Brush the pastry with the egg and sprinkle with the raw sugar. Place on a large baking tray and cook for 60–65 minutes or until golden brown and cooked through. Stand for 30 minutes before serving. Serves 6–8.

+ Cashew meal is available in the baking or nut aisle of the supermarket.
++ Lard is a common addition to pastry dough, as it has a higher melting point than butter so will help the pastry keep its shape when cooking. We've used a combination of butter and lard in our pastries to give a rich, sweet flavour and a nice crisp crust. Find lard in the chilled section of the supermarket.
Note: to make the lattice crust, roll out the pastry evenly, cut one sheet into a mix of wide and thin strips. Starting with a wide strip, top your pie with half the pastry strips, alternating between wide and thin. Fold back every other wide pastry strip and neighbouring thin strip. Lay down one wide pastry strip and one thin strip in the opposite direction, then fold the pastry back over the top. Alternate the strips you've folded back and repeat the process of laying down the pastry strips in the opposite direction and folding back over to create the woven lattice pattern.
Milli Troon
The pie looked amazing, but contents were a bit on the sloppy side. Put this down to apricots not being sufficiently ripe enough to break down and thicken filling during cooking. Extremely sweet, felt sugar content could be reduced somewhat. Pastry seemed a bit underdone at bottom, probably due to me not rolling thin enough. Flavours good, just a bit too labour intensive for me.