raspberry and eggnog bombe alaska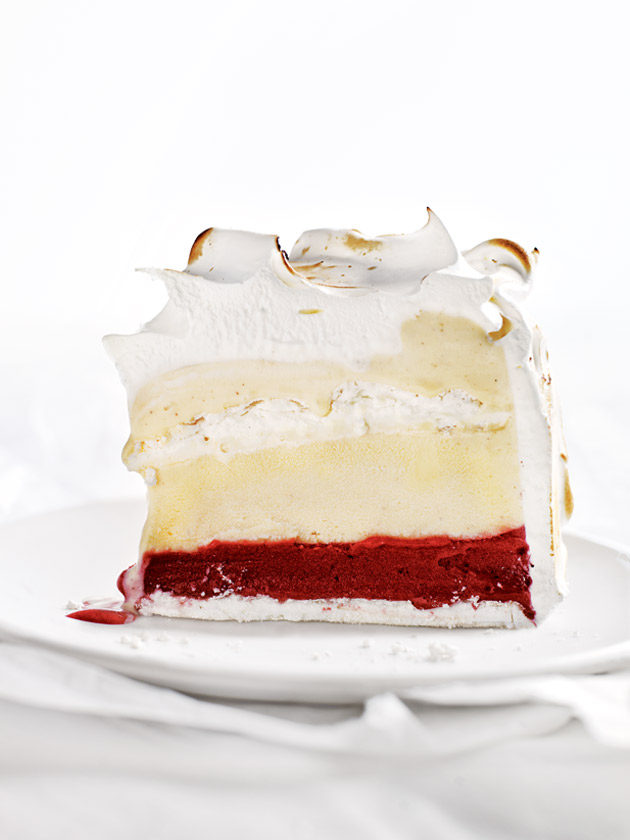 150ml eggwhite (about 4 eggs)+

1½ cups (240g) icing (confectioner's) sugar, sifted

500ml store-bought raspberry sorbet, softened

1 litre store-bought vanilla ice-cream

½ cup (140g) store-bought thick vanilla custard

¼ teaspoon each grated nutmeg and ground cinnamon

meringue icing
1½ cups (330g) caster (superfine) sugar

¼ teaspoon cream of tartar

½ cup (125ml) water

150ml eggwhite (about 4 eggs)+

Preheat oven to 120°C (250°F). Draw an 18cm circle on each of 2 sheets of non-stick baking paper++ and place each on a baking tray. Place the eggwhite in the bowl of an electric mixer and whisk on high speed until stiff peaks form. Add the sugar, 1 tablespoon at a time, whisking for 30 seconds before adding more. Scrape down the sides of the bowl and beat for a further 6 minutes or until stiff and glossy. Spoon into a piping bag fitted with a 2cm round nozzle. Pipe the meringue onto the trays in a spiral to fill in the circles, leaving 5mm of room to spread. Bake for 1 hour or until just crisp. Turn the oven off and allow the meringues to cool in the oven with the door closed for 30 minutes.

Line a deep-sided loose-based 20cm round tin with non-stick baking paper. Place 1 meringue round in the base of the tin+++. Spoon in the sorbet and spread evenly. Freeze for 30 minutes or until just set. Scoop the ice-cream into a bowl of the electric mixer and beat on low speed for 1 minute or until softened. Add the custard, nutmeg and cinnamon and beat to combine. Spoon into the tin, reserving 1 cup (250ml), and spread evenly. Top with the remaining meringue round and spread with the reserved ice-cream mixture. Freeze for 6 hours or overnight, until frozen.

To make the meringue icing, place 1¼ cups (275g) of the sugar, the cream of tartar and water in a small saucepan over high heat and stir with a metal spoon until just combined. Bring to the boil, reduce the heat to medium and cook for 4 minutes. Place the eggwhite in a clean bowl of the electric mixer and whisk on high speed until soft peaks form. Add the remaining ¼ cup (55g) sugar in 2 batches and whisk until stiff peaks form. With the motor running, add the sugar syrup in a thin, steady stream and whisk for 2–3 minutes or until thick and glossy.

Remove the cake from the tin and place on a cake stand or plate. Spread the icing over the top and sides, using a palette knife to create swirls and peaks. Use a small kitchen blowtorch to brown the icing to serve++++. Serves 8–10

+ Making meringue is a science – for success, be sure to measure the eggwhites carefully (as instructed in the recipe), remembering that egg sizes do vary. Be sure to use fresh, room-temperature eggs – this will help the eggwhites to become more voluminous when beaten.
++ To shape meringue into measured rounds for desserts like pavlova and bombe Alaska, draw circles on the non-stick baking paper to guide you. Use a pencil, then place the paper pencil-side down on the tray to ensure no marks transfer to the meringue.
+++ If the meringue rounds for the bombe Alaska are too large, trim them with a small sharp knife to fit the tin.
++++ You can serve the bombe Alaska immediately, or keep it, un-iced, in the freezer for up to 3 days. Make the meringue icing before serving, remove the cake from the tin, then ice and brown the bombe as instructed.
Tip: A small blowtorch is a handy tool to have in your kitchen, making light work of super impressive desserts. Find them at kitchenware stores and online.
There are no comments for this entry yet.