lemon meringue pie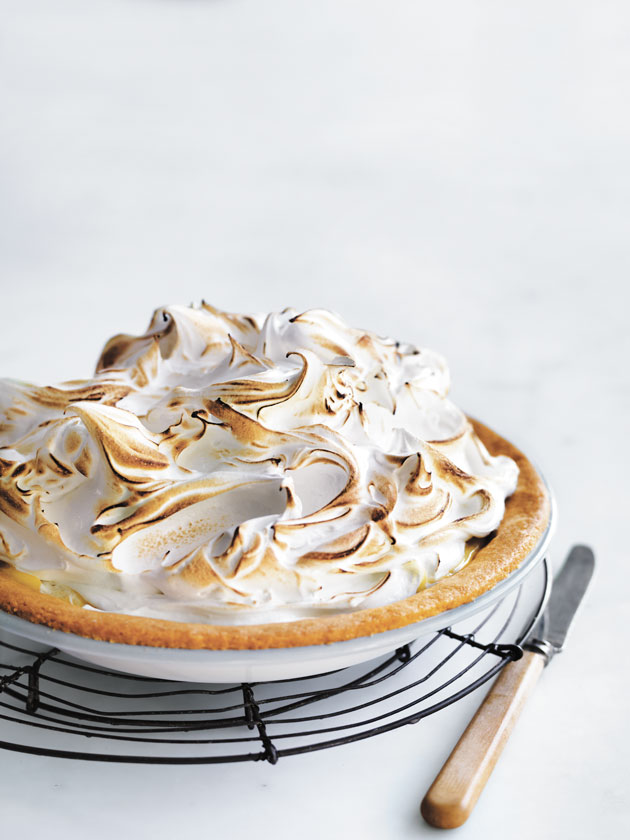 sweet shortcrust pastry
1½ cups (225g) plain flour, sifted

½ cup (80g) icing sugar, sifted

125g cold unsalted butter, chopped

2 egg yolks

1 tablespoon iced water
lemon filling
1½ cups (330g) caster sugar

2¼ cups (560ml) milk

½ cup (75g) cornflour

120g unsalted butter, chopped

1 cup (250ml) lemon juice

2 tablespoons finely grated lemon rind

9 egg yolks
meringue
1½ cups (330g) caster sugar

⅓ cup (80ml) water

½ teaspoon cream of tartar

115ml eggwhites (approximately 3 eggs), at room temperature

To make the pastry, place the flour, icing sugar and butter in a food processor and process until the mixture resembles fine breadcrumbs. While the motor is running, add the egg yolks and iced water and process until the dough just comes together. Turn out onto a clean surface and gently bring together to form a ball. Flatten into a disc, wrap in plastic wrap and refrigerate for 1 hour.

Roll the pastry out between 2 sheets of non-stick baking paper to 5mm thick. Preheat oven to 160°C. Line an 18cm (4-cup-capacity) pie tin with the pastry+. Trim the edges and prick the base with a fork. Refrigerate for 15 minutes or until firm. Line the pastry case with non-stick baking paper and fill with uncooked rice or baking weights. Cook for 15–20 minutes, remove the baking paper and rice and cook for a further 20 minutes or until the pastry is light golden. Remove from the oven and set aside.

To make the filling, place the sugar and 1 cup (250ml) milk in a saucepan over medium heat and bring to the boil. Place the cornflour and remaining milk in a small bowl and stir to combine. Add to the pan and whisk to combine. Add the butter and whisk until melted. Add the lemon juice, rind and egg yolks and cook, whisking continuously, for 3–4 minutes or until thickened. Pour the filling immediately into the pastry case, smooth the top and refrigerate for 1–2 hours or until set.

To make the meringue, place the sugar, water and cream of tartar in a saucepan over high heat. Bring to the boil, reduce heat to low and cook for 4 minutes. Place the eggwhites in the bowl of an electric mixer and whisk on high speed until soft peaks form. While the motor is running, add the hot sugar syrup in a thin steady stream and whisk for 1–2 minutes or until thick and glossy. Spoon the meringue over the filling and, using a kitchen blowtorch, torch until lightly golden. Serves 6–8.

TIPS:
+ When making meringue, it's important to start with a clean dry bowl and clean tools. Any grease or water can prevent the eggwhites from forming soft peaks.
+ If the dough is too soft after rolling, place in the fridge for 5–10 minutes or until firm enough to handle.
+ If you don't have a kitchen blowtorch, preheat a grill to high and cook for 30 seconds–1 minute or until lightly golden brown.
+ The lemon meringue will keep refrigerated for up to three days.
Rachel Wark
Hello Team, I made this for the first time last night and it was a hit… just a question on the meringue though.. I found that while it held its shape, it was quite soft / sticky when cut? Any tips? Rach xx
Maggie Zentner
Hi Donna Hay Team
I absolutely love this recipe, every time I have made it (and I reckon it would be about 10 now), the pie tastes so great, right consistency with the custard, egg whites, the whole lot, love love love this recipe, keep them coming.
Chloe Martin
What an amazing recipe!!
The lemon filling is so thick and beautifully lemony…
My new 'go to' crowd pleaser recipe!
Thank you! ; )
donna hay team
Hi Luisa, you can keep the pastry for up to a week, as long as it is un-baked and wrapped in cling film. Good luck!
Amanda Hunt
I'm one of those "tweak recipes" people ... however the custard part of this recipe is perfect ... I even found I could delay the process and cooled the mixture then reheated to add the egg yolks. It still turned out perfect. I added a little extra butter to the short crust pastry (basically due to chopping off a bit too much and thinking 'what the heck!') that made it extra crispy and indulgent. Thanks for this recipe!
luisa bianchin
Hi, I was just wondering how long this pastry keeps for in the fridge before making the pie? Thanks a million
Valda Rubio
I made this pie today. It was definitely NOT watery. It set beautifully. I put the timer on and cooked the filling for 4 minutes + 1 extra for good luck. I also really didn't believe such a small amount of egg white could make such a huge pile of meringue but it did! Wow! Fab! Donna, there are no faults in this recipe, it is fine.
Ashleigh Jeffrey
Love this! Made it 4 times now, 3 successes with requests coming in from neighbours who keep supplying me lemons. The first time I made it I also found too much liquid, however I found that was due to over eagerness with the milk at the beginning stage of the curd (adding all straight away, instead of separating). No more mistakes since and perfect meringue every time!
Mara Wink
Thank you for sharing such a fantastic recipe. Every time I make it I can't believe I actually produced something that great (I'm not that skilled or confident in the kitchen!). Professional results, thank you, thank you, thank you.
Cherie Pratt
I also found the lemon was far too liquid. The flavour is amazing but it simply did not set.
Euan Bowen
Fantastic recipe. I was worried the egg white volume wasn't enough for the meringue, but when I added the sugar syrup *whoosh* so much volume.
Thanks!
donna hay team
Hi Sally, that is very strange - we have made this many times in the test kitchen without fail. When cooking the lemon curd mixture make sure that is has thickened to coat the back of the spoon. It should be a little thicker than a store bought custard. If needed, cook it on the stove for 4-6 minutes, stirring, instead of 3-4. Good luck!
Sally Riordan
The liquid content of the lemon ingredients does not work, far too much liquid. Does not set. Disappointing :(