pumpkin and feta calzone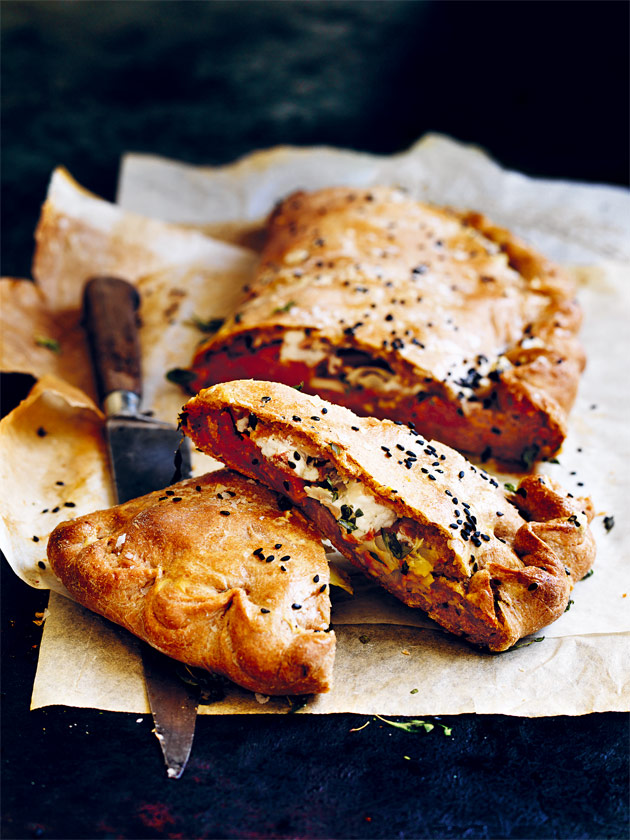 1kg butternut pumpkin, peeled and chopped into 2cm cubes
1 teaspoon sea salt flakes, plus extra for sprinkling
½ teaspoon cracked black pepper, plus extra for sprinkling
2½ tablespoons extra virgin olive oil, plus extra for drizzling
1 medium garlic bulb, halved horizontally
white spelt flour, for dusting
½ x quantity simple spelt loaf dough (see basic recipe link under method)

+

150g marinated feta, drained and crumbled
3 marinated artichoke hearts*, drained and quartered
¼ cup marjoram* leaves
1 egg, lightly beaten
1 teaspoon black sesame seeds

++
Preheat oven to 220°C (425°F). Place the pumpkin, salt, pepper and 2 tablespoons of the oil in a bowl and toss to coat. Transfer to a lightly greased oven tray lined with non-stick baking paper. Place the garlic, cut-side up, on a sheet of aluminium foil. Drizzle with the remaining oil and sprinkle with extra salt and pepper. Wrap to enclose and place on the oven tray. Roast the pumpkin and garlic for 30 minutes or until the pumpkin is golden brown and the garlic is soft. Allow to cool slightly.
Lightly dust a clean surface with flour and divide the dough in half. Roll each piece out between sheets of non-stick baking paper into a 30cm round. Transfer to 2 lightly greased baking trays and set aside in a warm place for 15 minutes.
Squeeze the garlic cloves from their skins into a bowl and mash. Remove the top sheets of baking paper from the dough and spread each base with garlic. Leaving a 2cm border, top half of each base with the pumpkin, feta, artichoke and marjoram. Brush the edges with the egg and fold the dough over to enclose, pressing and pinching the edges to seal. Brush the calzones with the remaining egg. Drizzle with extra oil and sprinkle with extra salt and the sesame seeds. Bake for 12–15 minutes or until crisp. Slice and serve warm. Makes 2
TIPS + TRICKS
+ This recipe begins with simple bread loaf – simply prepare the basic recipe until the end of step 3.
++ If you can't find black sesame seeds, you can just use regular white sesame seeds.
Photography: William Meppem
Jenny Hargreaves
Good recipe! The bread recipe worked well and would be good for pizza too!