ricotta and oregano empanadas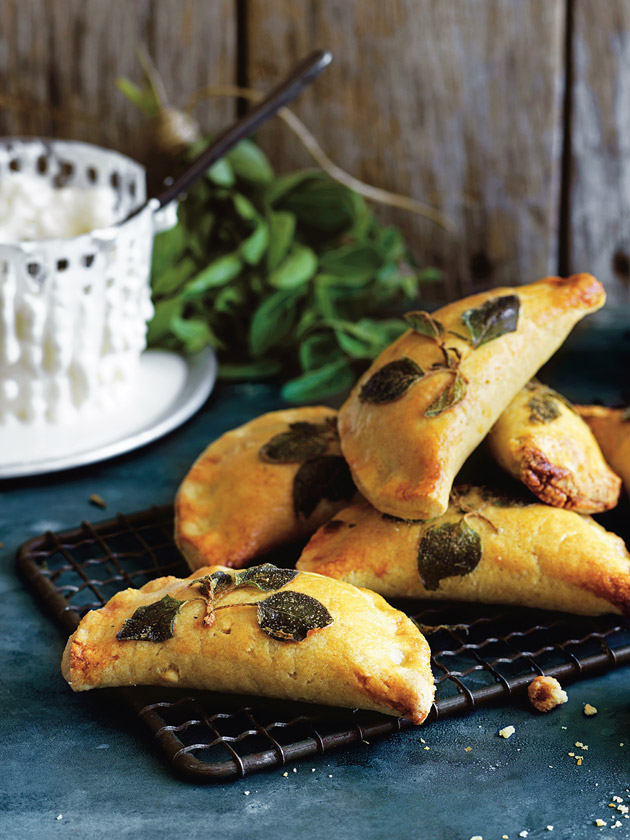 ½ cup (120g) fresh ricotta

¼ cup (20g) finely grated parmesan

50g soft goat's cheese

1 teaspoon finely grated lemon rind

2 teaspoons chopped oregano leaves

sea salt and cracked black pepper

1 egg, lightly beaten

10 small sprigs oregano, extra

olive oil hot water pastry
½ cup (125ml) Cobram Estate Australian Ultra Premium Hojiblanca extra virgin olive oil ¾ cup (180ml) water

2½ cups (375g) plain (all-purpose) flour

½ teaspoon sea salt flakes

Preheat oven to 200°C (400°F). Place the ricotta, parmesan, goat's cheese, lemon zest, oregano, salt and pepper in a medium bowl and stir to combine. Set aside.

To make the olive oil hot water pastry, place the oil and water in medium saucepan over high heat and bring to the boil. Remove from the heat, add the flour and salt, and mix to combine. Turn out onto a clean surface and quickly knead until smooth.

Roll out the dough between 2 sheets of non-stick baking paper to 3mm-thick. Using a 10.5cm round cutter, cut the dough into 10 rounds. Working one at a time, place a tablespoon of the ricotta mixture into the centre of each round. Brush the edge with egg, fold in half and press the edges together to seal.

Place the empanadas on a large oven tray lined with non-stick baking paper. Brush the pastry with egg, press an oregano sprig into the top of each empanada, and brush again with egg to seal. Cook for 20 minutes, or until golden brown. Serve. Makes 10.

There are no comments for this entry yet.