spinach and ricotta cannelloni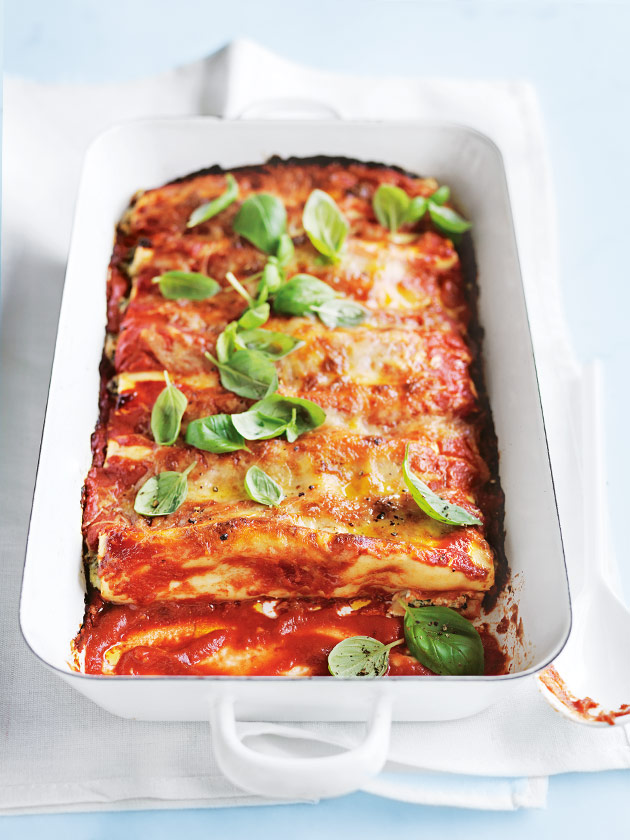 3 cups (840g) tomato puree (passata)

1 cup (250ml) water

5 fresh lasagne sheets, cut into 15cm x 12cm rectangles

½ cup (15g) finely grated parmesan

½ cup (50g) grated mozzarella

basil leaves, to serve

filling
2 bunches (1kg) English spinach, trimmed

3½ cups (840g) fresh ricotta

1 cup (35g) finely grated parmesan

2 tablespoons chopped flat-leaf parsley leaves

2 cloves garlic, crushed

1 teaspoon finely grated lemon rind

1 tablespoon chopped dill

½ cup (35g) fresh white breadcrumbs

sea salt and cracked black pepper

Place the spinach, ricotta, parmesan, parsley, garlic, lemon, dill, breadcrumbs, salt and pepper in a large bowl and mix to combine.

Place the tomato puree and water in a second large bowl and mix to combine.

Spread half of the tomato mixture over the base of a greased 20cm x 30cm ovenproof dish.
Lay a lasagne sheet on a flat surface, top with ¼ cupful of the ricotta filling along the centre and roll. Place in the baking dish, seam-side down. Repeat with the remaining sheets and filling.

Pour the remaining tomato mixture over the cannelloni, sprinkle with the parmesan and mozzarella and cook for 25–30 minutes at 180 degrees, or until golden and cooked through.
Top with the basil leaves to serve. Serves 4–6.
donna hay team
Hi, Tina. Thanks for your question. Unfortunately it is best not to freeze the ricotta mixture, as it will separate when it defrosts and curdle. The DH Team.
TINA KOFIOTIS
I've got extra ricotta filling leftover, can this be frozen to use another time?
donna hay team
Hi Sally, yes no problem at all to make the day before. The dh team
Sally Noble
Hi, Could this be prepared the day before and left in the fridge until you need to cook it??
donna hay team
Hi Lucind, preheat your oven to 180°C (400°F). Happy cooking!
Lucind Bauer
Any idea what temp to cook this on?