spring greens bowls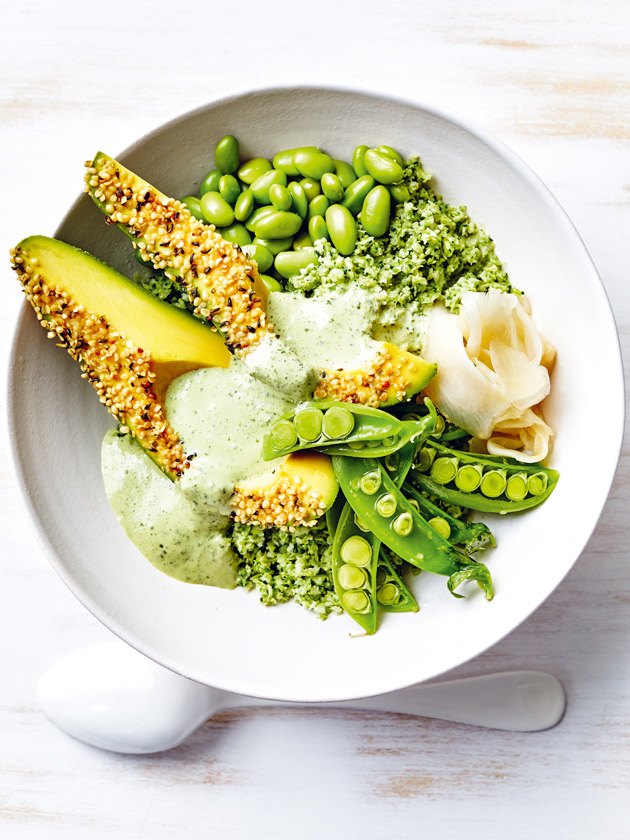 600g (1 lb 5 oz) broccoli florets (about 2 heads)

1 tablespoon extra virgin olive oil

sea salt and cracked black pepper

150g (5¼ oz) sugar snap peas, trimmed

1 cup (140g/5 oz) frozen shelled edamame beans

2 tablespoons hemp seeds or sesame seeds, toasted

2 small avocados, quartered lengthways

¼ cup (70g/2½ oz) store-bought pickled ginger

1 x quantity of green dressing (see recipe link under method)
In 2 batches, place the broccoli in a food processor and process until it resembles rice. Heat a large deep-sided frying pan over medium-high heat. Add the oil, broccoli, salt and pepper and cook, stirring, for 3 minutes or until

the broccoli is just tender. Divide between serving bowls and allow to cool.

Place the peas and edamame in a large heatproof bowl. Cover with boiling water and allow to stand for 5 minutes. Drain and rinse under cold running water. Slice the peas lengthways.

Place the hemp seeds on a small tray and press one edge of each avocado quarter into the seeds to coat. Top the broccoli rice with the peas, edamame, avocado and ginger. Drizzle with the dressing to serve. Serves 4


TIPS + TRICKS
+ Add some more fuel to your nourishing bowl if you wish, by way of a peeled and halved soft-boiled egg.
+ You can use cauliflower in place of the broccoli in this recipe, if you prefer.
Photography: Con Poulos
There are no comments for this entry yet.