grandma's fruit cake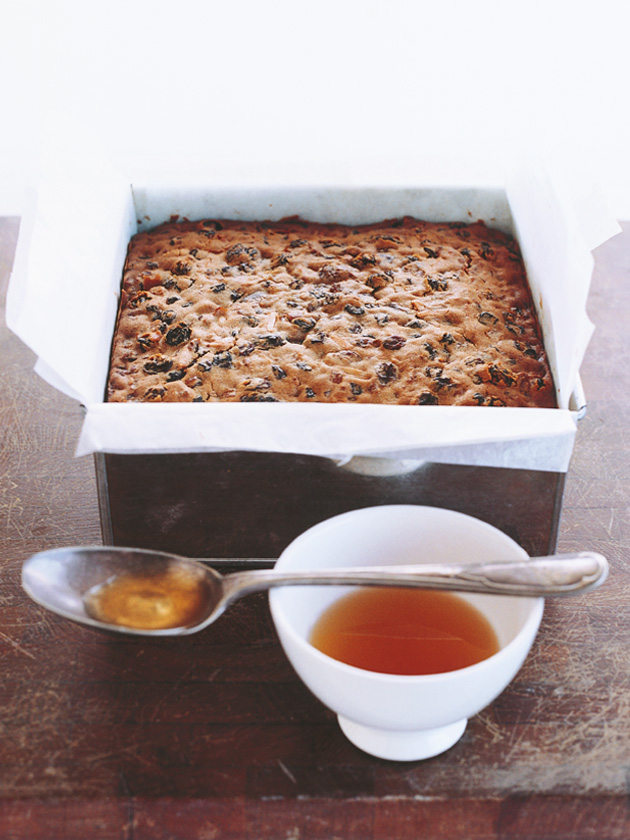 3 cups raisins

1½ cups sultanas

1 cup currants

¾ cup chopped dates

1 cup slivered almonds

¾ cup (6 fl oz) brandy

250g (8c oz) butter, softened

1¼ cups brown sugar

4 eggs

2¼ cups plain (all-purpose) flour, sifted

¼ teaspoon bicarbonate of soda (baking soda)

1 teaspoon ground cinnamon

2–3 tablespoons brandy, extra

Place the fruit and nuts in a bowl and pour over the brandy. Cover and allow to soak overnight. Preheat the oven to 140˚C (285˚F).

Place the butter and sugar in the bowl of an electric mixer and beat until light and creamy. Gradually add the eggs and beat well. Place the butter and fruit mixtures, flour, bicarbonate of soda and cinnamon in a bowl and stir to combine.

Line a 20cm (8 in) square cake tin with two layers of non-stick baking (parchment) paper. Spoon in the mixture and bake for 2 hours or until cooked.

Pour over the extra brandy while the cake is hot. Cool in the tin. Serves 12.

Sarah Loudon
Love, love, LOVE this cake! I make it every Christmas Eve and we enjoy it as our Christmas cake. It keeps well, freezes well and makes the house smell like Christmas. A real family favourite!