orange and rosemary cake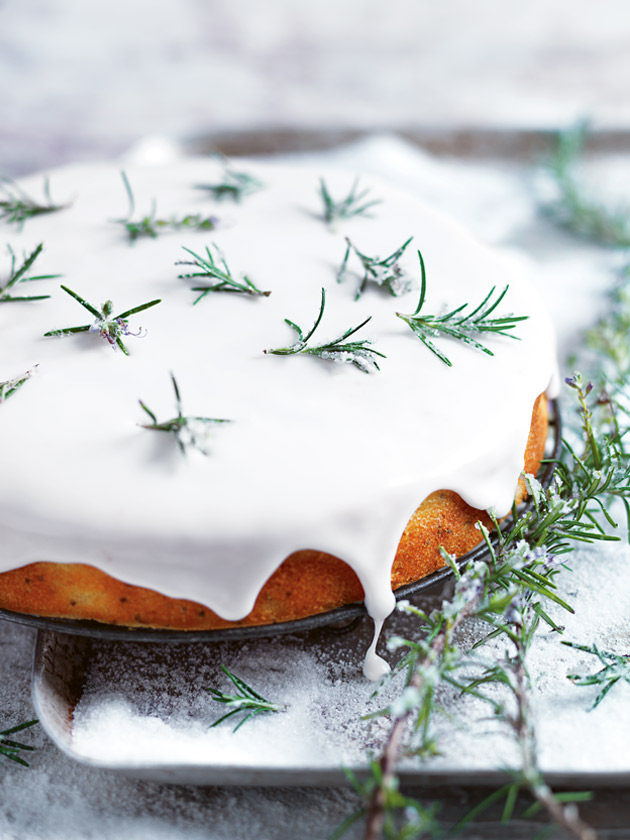 250g unsalted butter, softened

1 cup (220g) caster sugar

3 eggs

2 cups (300g) self-raising flour, sifted

½ teaspoon finely chopped rosemary leaves

1 tablespoon finely grated orange rind

½ cup (125ml) orange juice

¾ cup (180ml) milk

sugared rosemary+, to serve

orange icing
2 cups (320g) icing sugar, sifted

2 tablespoons orange juice

Preheat oven to 160°C. Place the butter and sugar in the bowl of an electric mixer and beat for 8 minutes or until pale and creamy. Add the eggs, one at a time, beating well after each addition.
Add the flour, rosemary, orange rind, orange juice and milk and beat on low speed until just combined. Spoon into a 5cm deep, lightly greased 25cm round cake tin lined with non-stick baking paper.
Cook for 40–45 minutes or until cooked when tested with a skewer. Allow to cool in the tin for 10 minutes before turning out onto a wire rack to cool completely.
To make the orange icing, place the icing sugar and orange juice in a bowl and whisk until smooth. Once the cake has cooled, spoon over the icing and decorate with sugared rosemary to serve. Serves 8.

+ To make the sugared rosemary, dip 3 rosemary sprigs in hot water, then press into ¼ cup (55g) white sugar. Place on a small tray and allow to dry for 30 minutes or until crisp. Trim the leaves.
Leonardo Padrón
One of my favorites recipes
donna hay team
Hi Peri, we think orange is best as grapefruit is quite tart because of its higher acidity level. If you try using grapefruit, let us know how you go.
peri gl
Would this work well with grapefruit instead of orange?
Kelly Haustorfer
Would this work with lemon instead of orange?
Christine Roden
A lovely cake both in texture and taste. Very quick and easy to make. Thank you