cheesy cannelloni bolognese bakes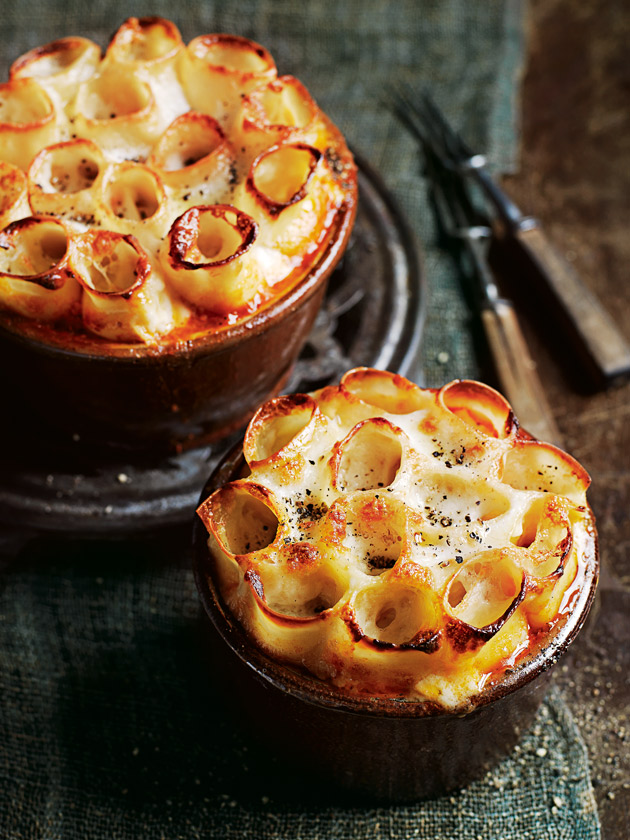 2 tablespoons extra virgin olive oil

1 brown onion, finely chopped

4 cloves garlic, crushed

500g pork mince

500g veal mince

¼ cup (70g) tomato paste

3 cups (750ml) tomato puree (passata)

½ cup (125ml) red wine

2 fresh bay leaves

1 cup (250ml) chicken stock

sea salt and cracked black pepper

500g cannelloni tubes

250g buffalo mozzarella, sliced

bechamel sauce
40g unsalted butter

¼ cup (35g) plain (all-purpose) flour

2 cups (500ml) milk

1½ cups (150g) grated mozzarella

1¼ cups (100g) grated parmesan

Heat the oil in a large heavy-based saucepan over medium heat. Add the onion and garlic and cook, stirring, for 3–4 minutes or until softened. Increase heat to high, add the pork and veal and cook, breaking up any lumps with a wooden spoon, for 10 minutes or until browned.

Add the tomato paste and cook for 1 minute. Add the puree, wine, bay leaves, stock, salt and pepper and stir to combine. Bring to a simmer, cover with a tight-fitting lid, reduce the heat to low and cook for 45 minutes.

To make the bechamel sauce, melt the butter in a medium saucepan over medium heat. Add the flour and whisk for 1–2 minutes or until a smooth paste forms. Gradually add the milk and cook, whisking, for 3–4 minutes or until thickened slightly.

Remove from the heat and add the grated mozzarella, parmesan, salt and pepper and whisk to combine. Set aside.

Preheat oven to 200°C (400°F). Divide the bolognese between 4 x 3-cup-capacity (750ml) ovenproof ramekins and push in the pasta to *fit. Top with the bechamel sauce and buffalo mozzarella, place on an oven tray and cook for 20–25 minutes or until golden and cooked through.

Sprinkle with pepper to serve. Makes 4.

*Ensure the ramekins are 10cm deep so the cannelloni tubes fit snugly. Alternatively, use a serrated knife to trim the pasta to fit.
Donna Koot
I have just made this dish, I did not have canneloni, but used penne, wow, amazing, wonderful dish thank you