frozen christmas pudding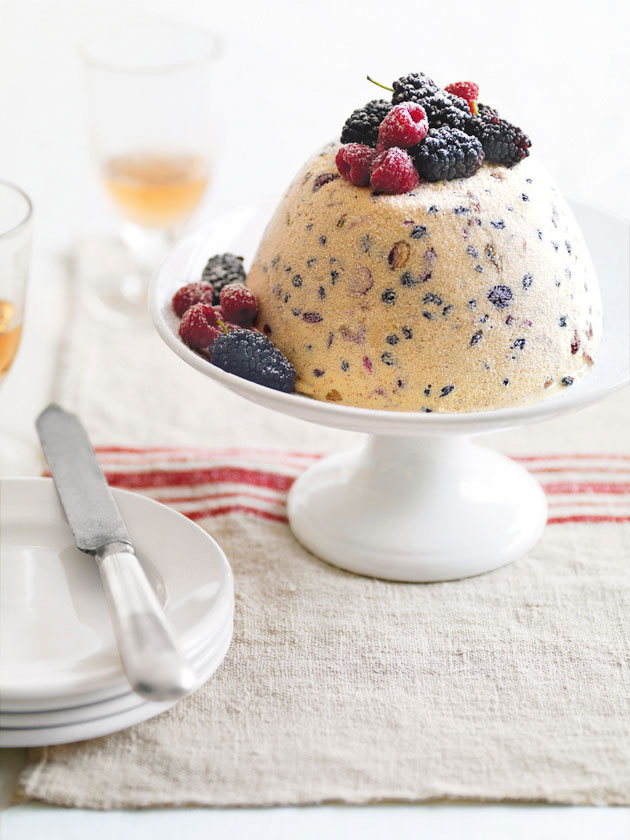 ½ cup (110g) caster (superfine) sugar

1 cup (250ml) water

½ cup (85g) currants

¾ cup (100g) sweetened dried cranberries

2 litres vanilla ice-cream

2 teaspoons vanilla bean paste

1 teaspoon cinnamon

85g unsalted shelled pistachios, chopped

¼ cup (60ml) brandy
blackberries and raspberries, to serve

icing (confectioner's) sugar, for dusting

Place the sugar and water in a small saucepan over low heat and stir until sugar is dissolved. Bring to the boil for 1 minute.
Place the currants and cranberries in a bowl and pour over the sugar mixture. Set aside for 10 minutes or until the fruit is plump. Drain and allow to cool completely.
Place the ice-cream, vanilla and cinnamon in the bowl of an electric mixer and beat for 1 minute or until softened. Stir through the currant mixture, pistachios and brandy and spoon into a 1.75 litre-capacity pudding basin lined with muslin. Top with a round of non-stick baking paper and freeze for 4 hours or overnight until set. Top with berries and dust with icing sugar. Serves 8–10.

Barbara Dyer
I made this slightly larger - more room to pile on berries and fresh mint leaves. Pity I can't add photo to this comment