spiced Christmas wreath pavlova
with eggnog custard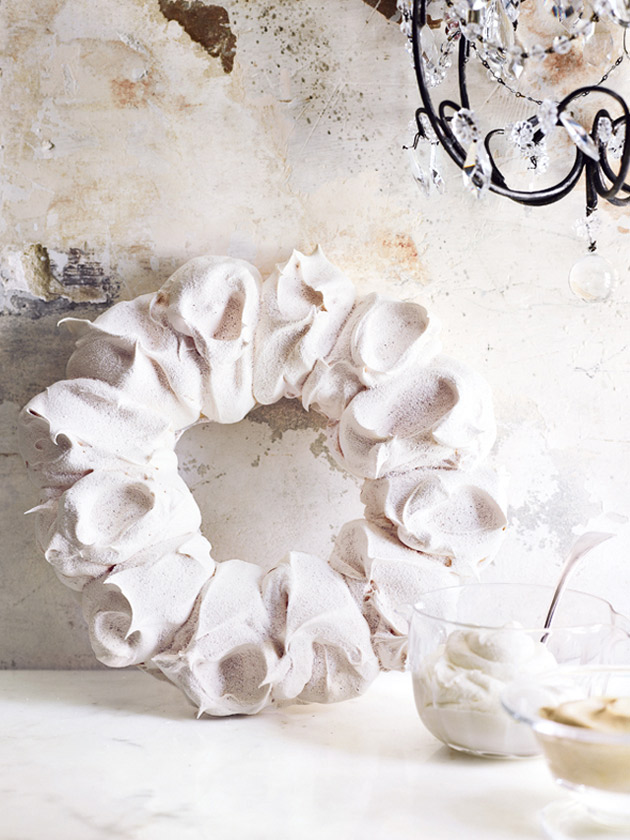 225ml eggwhites (approximately 6 eggs)
1½ cups (330g) caster (superfine) sugar
1½ teaspoons white vinegar
¼ cup (40g) icing (confectioner's) sugar, sifted
¼ teaspoon cinnamon
¼ teaspoon nutmeg
1½ cups (375ml) single (pouring) cream, whipped
eggnog custard
1½ cups (375ml) single (pouring) cream
2 sticks cinnamon
1 vanilla bean, split and seeds scraped
¼ teaspoon nutmeg
2 tablespoons dark rum
4 egg yolks
¼ cup (55g) caster (superfine) sugar

Preheat oven to 150°C (300°F). Place the eggwhites in an electric mixer and whisk on high until stiff peaks form. Add the sugar, 1 tablespoon at a time, whisking for 30 seconds before adding another tablespoon. Once all the sugar has been added, whisk for a further 6 minutes or until the mixture is stiff and glossy. Scrape down the sides of the bowl with a spatula. Add the vinegar and whisk for a further 2 minutes or until glossy and combined. Draw a 26cm circle on a sheet of non-stick baking paper and place on a large baking tray (see tips + tricks, bottom right). Place heaped spoonfuls of the meringue mixture around the inside of the circle to create a ring. Reduce temperature to 120°C (250°F) and bake for 1 hour 30 minutes. Turn the oven off and allow the pavlova to cool completely in the oven.
Place the icing sugar, cinnamon and nutmeg in a bowl and mix to combine. Set aside.
To make the eggnog custard, place the cream, cinnamon, vanilla, nutmeg and rum in a saucepan over medium heat and cook until just boiling. Remove from the heat.
Place the yolks and sugar in a bowl and whisk to combine. Whisking well, slowly pour the cream mixture into the egg mixture. Return to the saucepan over low heat and cook, stirring, for 6–8 minutes or until mixture is thick enough to coat the back of a spoon. Remove the cinnamon and vanilla bean and allow to cool completely. Dust the pavlova with the spiced sugar and serve with the whipped cream and eggnog custard. Serves 6–8.

+ Download donna hay magazine celebrate iPad app for tips on how to spoon the meringue mixture into a wreath shape.
There are no comments for this entry yet.