lychee and coconut granita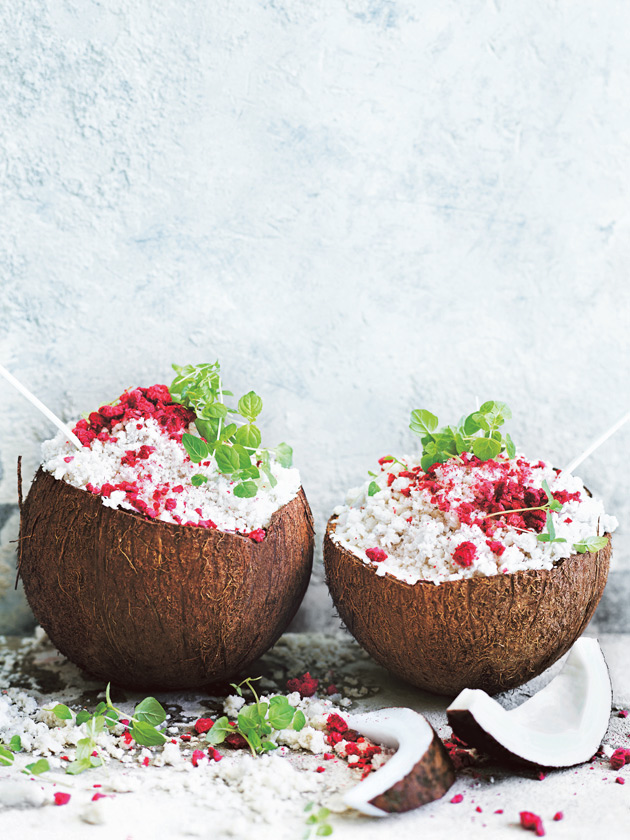 2 jasmine green tea bags

¼ cup (55g) raw caster (superfine) sugar

2 cups (500ml) boiling water

20 fresh lychees (615g), peeled and pitted

400ml can coconut milk

2 tablespoons lime juice

freeze-dried raspberries and micro (baby) mint leaves, to serve

Place the tea bags, sugar and boiling water in a medium heatproof bowl and stir to dissolve the sugar. Refrigerate for 30 minutes or until cooled. Remove and discard the tea bags.

Place the tea in a blender. Add the lychees, coconut milk and lime juice and blend for 1 minute or until smooth. Pour into a 20cm x 30cm shallow metal tin and place in the freezer for 6 hours or overnight until frozen.

Using a fork, rake the granita and return to the freezer until ready to serve. Divide the granita between glasses+ and top with the freeze-dried raspberries and mint to serve. Serves 6–8.

+ We served our granita in fresh coconut halves.
There are no comments for this entry yet.