beetroot and juniper glazed salmon
with horseradish mash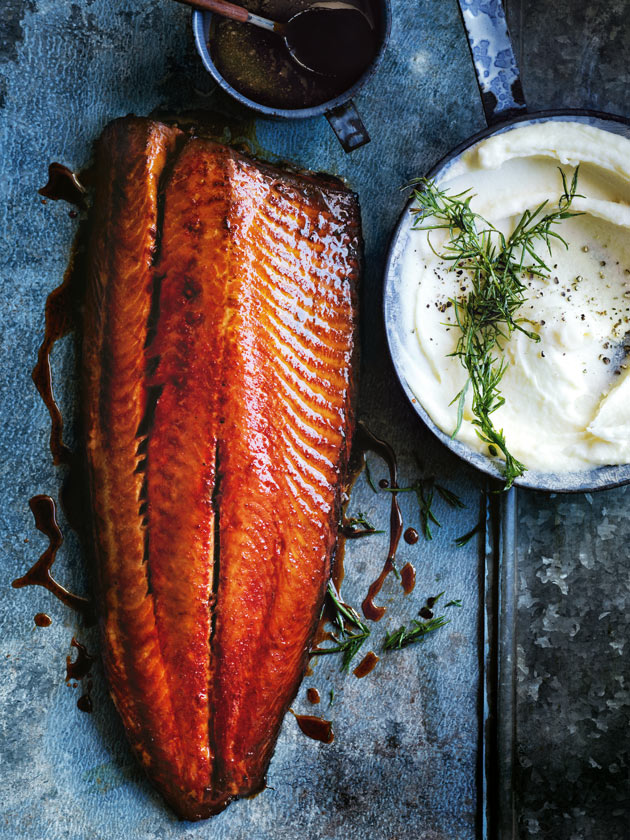 1 x 800g side sashimi-grade salmon, skin on

4 large beetroot (1kg), trimmed and chopped

3 cups (750ml) apple juice

6 cloves garlic

1 teaspoon finely grated lemon rind

2 tablespoons juniper berries

1 tablespoon each sea salt flakes and black peppercorns

1 bunch tarragon (about 6 sprigs)

½ cup (90g) light brown sugar

1 tablespoon apple cider vinegar

2 tablespoons extra virgin olive oil

horseradish mash
1kg sebago (starchy) potatoes, peeled and chopped
1 cup (250ml) single (pouring) cream

2 tablespoons freshly grated horseradish+
sea salt and cracked black pepper

Place the salmon to fit snugly in a deep-sided baking dish. Place the beetroot, juice, garlic, lemon rind, juniper, salt, pepper and half the tarragon in a blender and blend until smooth. Pour the mixture over the salmon, ensuring the salmon is submerged. Cover with plastic wrap and refrigerate for 3 hours.

Preheat oven to 240°C (475°F). Line a large baking tray with non-stick baking paper. Remove the salmon from the dish, wipe off any excess marinade and set aside, skin-side down, on the tray. Reserve ½ cup (125ml) of the beetroot mixture and strain into a small saucepan. Place over medium heat. Add the sugar and vinegar, stir to combine and bring to the boil. Cook for 10 minutes or until syrupy.

Roast the salmon, brushing every 10 minutes with the beetroot glaze, for 30 minutes or until dark golden.

To make the horseradish mash, place the potato in a medium saucepan of cold, salted water over high heat. Bring to the boil and cook for 8 minutes or until tender. Drain and return to the pan. Add the cream, horseradish and salt and mash until smooth.

Heat the oil in a small non-stick frying pan over high heat. Add the remaining tarragon and cook for 30 seconds or until crisp. Serve the salmon with the horseradish mash, remaining glaze, salt, pepper and the crispy tarragon. Serves 4

+ If you can't find fresh horseradish, you can substitute with grated horseradish (available in a jar from the supermarket).
Photography: Chris Court
donna hay team
Hi Viv, we have used juniper berries from the packet, which should still be semi soft. Hope this helps!
Viv Friend
Hi there, do you need to use fresh juniper berries or can you use the juniper berries in a packet (therefore dried) ??
donna hay team
Hi Robyn, the beetroot is placed in the blender raw. Happy cooking! The DH Team
Robyn Lang
Is the beetroot cooked first? Or do you put it in the blender raw???? That's one tough blender!