fresh turmeric coconut fish curry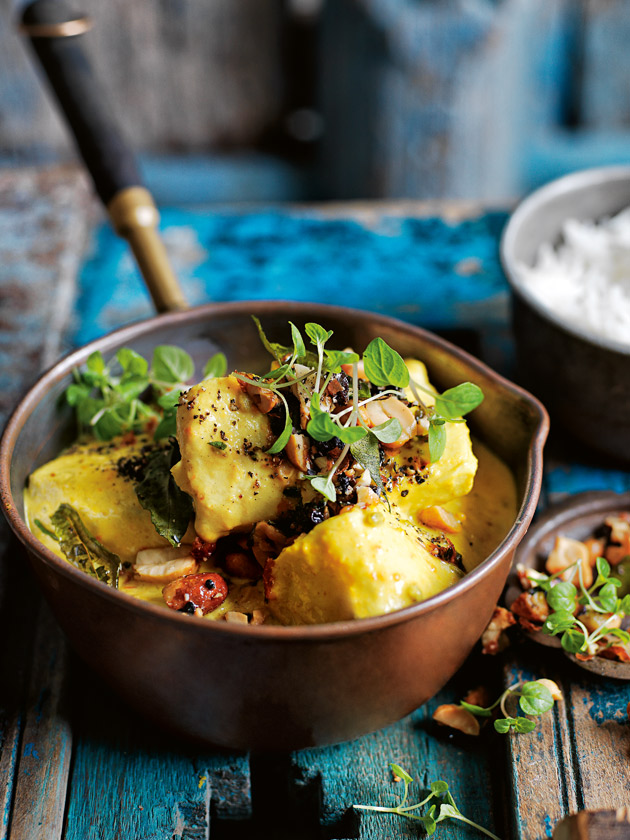 1 long red chilli, sliced

1 tablespoon fennel seeds, toasted

1 tablespoon yellow mustard seeds, toasted

1 teaspoon curry powder

1 teaspoon chilli powder

1 teaspoon sea salt flakes

1 tablespoon finely grated ginger

3 cloves garlic

2 tablespoons finely grated fresh turmeric

2 tablespoons vegetable oil

2 x 400ml cans coconut milk

2 tablespoons grated palm sugar

1kg firm white fish fillets such as blue-eye cod, skin removed, cut into 5cm pieces
1 tablespoon lime juice

basmati rice, cooked, to serve

baby (micro) mint leaves, to serve

sweet and spicy nut mix, to serve
Place the chilli, fennel seeds, mustard seeds, curry powder, chilli powder, salt, ginger, garlic, turmeric and vegetable oil in a small food processor and process until a fine paste forms.
Heat a large shallow saucepan over high heat. Add the turmeric paste and cook, stirring frequently, for 5–6 minutes or until fragrant. Add the coconut milk and palm sugar, and bring to the boil. Reduce heat to low and cook for 4–5 minutes, or until reduced slightly.
Add the fish and cook for 10–12 minutes
or until just cooked through. Stir through
the lime juice. Divide between bowls and
serve with rice, mint leaves and the sweet and spicy nut mix. Serves 4.
donna hay team
Hi Lilii, thanks for the feedback. Perhaps you could try toasting it in the pan for less time or on lower heat so the colour stays. The dh team
Lilii Tourne
It's a great recipe, but the last time I made it and had come to toast the curry paste before adding the coconut milk, The paste discoloured and the curry turned out a little more on the brown side rather than yellow characteristic of turmeric . How do you prevent this ?
Claire Adams
Can yo use ground turmeric, thanks
Claire Adams
Hi Sometimes I cant get fresh tumeric could you make it with ground? and if so how much would I use
Lauren Cowie
I didn't think I liked fish in a curry but this recipe is fantastic. Sooooo tasty and actually very easy despite the scary ingredient list. I've made it with blue nose, hapuka and kingfish. All great. Give it a go!
cece e
Made this tonight. Only used 1 x 400 ml can of coconut milk and substituted the other can for 1 cup of stock. This made it alot lighter than most curries Also used frozen barramundi (400g) and added veges to make the bulk. The base of this curry is so delicious. I will be making this again