chocolate mud cake
with mini ice-cream cones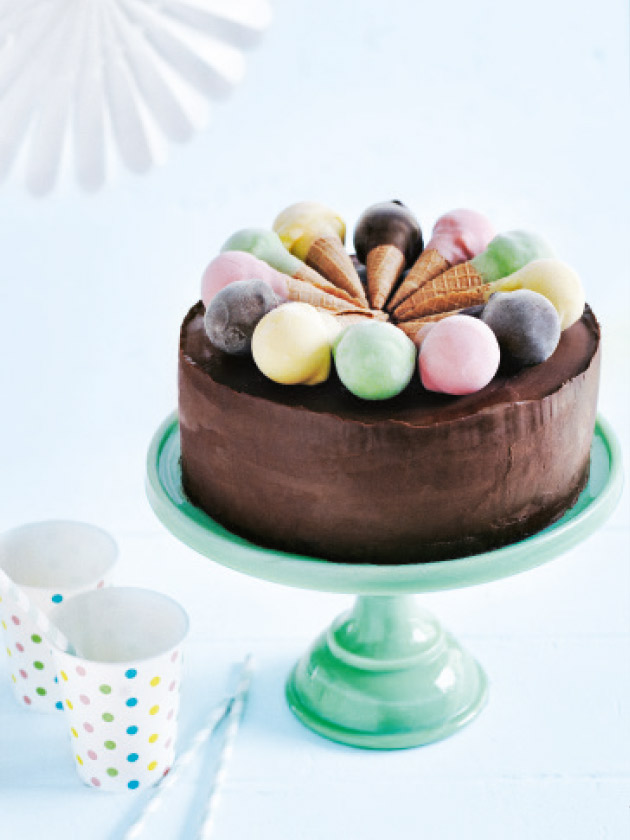 500g unsalted butter, chopped

400g dark chocolate, chopped

2⅔ cups (660ml) milk

4 cups (880g) caster (superfine) sugar

2 teaspoons vanilla extract

4 eggs

3 cups (450g) plain (all-purpose) flour, sifted

½ cup (75g) self raising (self-rising) flour, sifted

½ cup (50g) cocoa powder, sifted

12 mini ice-cream cones, to decorate+

chocolate ganache
1 cup (250ml) single (pouring) cream

300g dark chocolate, finely chopped

Preheat oven to 150°C (300°F). Lightly grease 2 x 22cm round cake tins and line the bases and sides with non-stick baking paper. Set aside.
Place the butter, chocolate, milk, sugar and vanilla in a large saucepan over medium heat and stir until melted and smooth. Set aside to cool until just warm. Pour into a large bowl, add the eggs and whisk to combine. Add both the flours and cocoa and whisk until smooth. Divide the mixture between the prepared tins. Bake for 2 hours–2 hours 10 minutes or until cooked when tested with a skewer. Allow the cakes to cool in the tins.
To make the chocolate ganache, place the cream in a medium saucepan over medium heat and bring to the boil. Remove from the heat, add the chocolate and allow to stand for 5 minutes or until the chocolate is very soft. Whisk until melted and smooth and set aside to cool to room temperature.
To assemble, trim the top of the cakes and place one cake on a cake stand or serving plate. Using a palette knife, spread ½ cup of the ganache on the bottom cake.
Top with the remaining cake and spread the sides and top of the cake with a thin layer of the remaining ganache, taking care to create a smooth finish. Decorate with the ice-cream cones to serve. Serves 18–20.
+ You can bake the cakes up to 3 days in advance, cover tightly with plastic wrap and store at room temperature. Simply assemble and spread the cake with the ganache on the day of serving.
+ If the ganache becomes too stiff, whisk it vigorously to soften and break up any lumps.
+ Use a large serrated bread knife to trim the tops of the cakes.
donna hay team
Hi Kylie, we haven't tested this so we can't guarantee how it would turn out. Let us know how you go! The DH Team.
Kylie Jones
If I made this into cupcakes how many would it make and how long would they need cooking for?
donna hay team
Hi Diane, the ice cream cones are actually ice cream. You can find them in selected delicatessens or ice cream shops. Some sweet stores or supermarkets also stock mini (plain) cones you can use. Good luck!
Diane Jenkins
I'm going to make this cake for my granddaughter's First Birthday. I presume the mini ice cream cones are a confectionery product. Where do I purchase these cones from?