chocolate honeycomb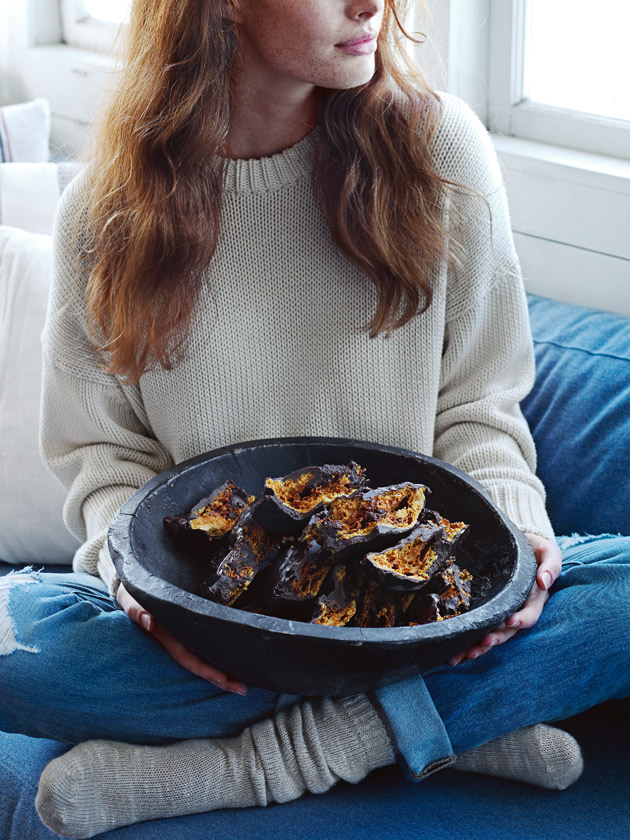 ¾ cup (165g) white (granulated) sugar

¼ cup (60ml) light corn syrup

1½ tablespoons water

1½ teaspoons bicarbonate of (baking) soda, sifted

400g dark chocolate, melted

1 tablespoon vegetable oil

Lightly grease a 20cm x 20cm tin and line with non-stick baking paper. Place the sugar, corn syrup and water in a medium saucepan over medium heat and stir to combine. Bring to the boil and cook for 8-9 minutes or until the mixture reaches 152°C (305°F) on a sugar thermometer.

Remove from heat and, working quickly, whisk in the bicarbonate of soda until well combined. Immediately pour the mixture into the prepared tin, tilting to spread evenly. Stand for 30 minutes or until cool and hardened. Break into large shards and return to the lined tray.

Place the chocolate and oil in a small bowl and mix to combine. Pour the chocolate mixture over the honeycomb and gently tap the tin to even out. Refrigerate for 20 minutes or until set. Break into shards to serve. Serves 6.
COOK'S TIP:
This honeycomb can be stored in an airtight container for up to a week.
There are no comments for this entry yet.