quinoa pizza
with grilled harissa eggplant and labne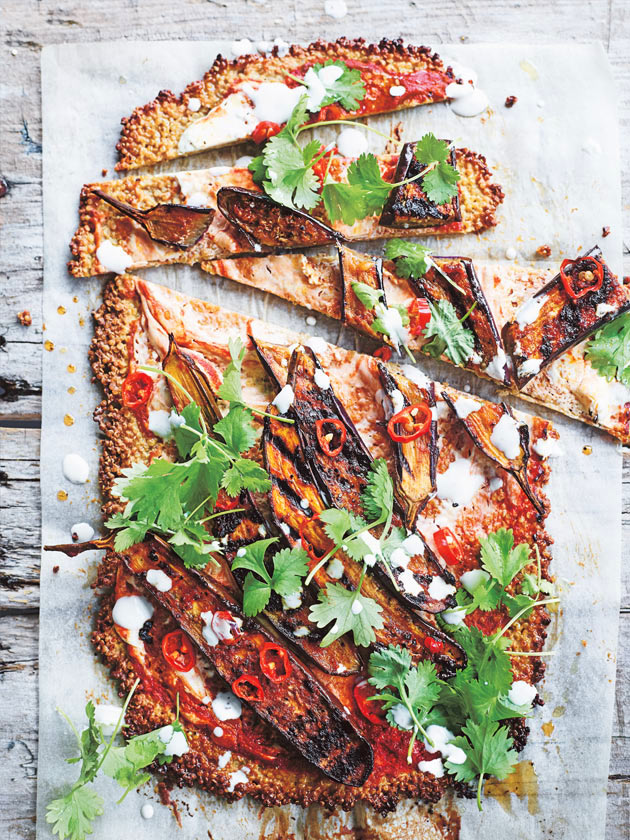 2 teaspoons harissa paste

1 tablespoon extra virgin olive oil

2 cloves garlic, crushed

8 Japanese (finger) eggplants (aubergines), halved lengthways

½ cup (130g) labne (yoghurt cheese)

⅓ cup (95g) tomato puree (tomato passata)

1 long red chilli, thinly sliced

¼ cup coriander (cilantro) leaves

labne dressing
½ cup (130g) labne (yoghurt cheese)

2 tablespoons lemon juice

quinoa base
¾ cup (145g) white quinoa

1 cup (250ml) water

⅓ cup (130g) quinoa flour

2 eggs

⅓ cup (80ml) buttermilk

sea salt and cracked black pepper

Preheat oven to 200°C (400°F). To make the quinoa base, place the quinoa and water in a medium saucepan over high heat. Bring to the boil, cover with a lid and reduce the heat to low. Cook for 12 minutes or until tender. Remove from the heat and set aside to cool.

Place the cooled quinoa, quinoa flour, eggs, buttermilk, salt and pepper in a large bowl and mix to combine. Divide the mixture in half and place each portion on a lightly greased large oven tray lined with non-stick baking paper. Press each portion into a 20cm x 28cm rectangle. Cook for 15 minutes.

Preheat a char-grill pan over medium heat. Place the harissa, oil and garlic in a bowl and stir to combine. Brush the eggplant with the harissa mixture and cook for 3 minutes on each side or until tender. Set aside.

Spread the bases with the labne and tomato, top with the eggplant and chilli and cook for a further 10 minutes or until the base is crisp.

To make the labne dressing, place the labne and lemon juice in a bowl and whisk to combine. Top the pizzas with the coriander and drizzle with the labne dressing to serve. Makes 2.

There are no comments for this entry yet.