spiced turkey kofta skewers with bean salad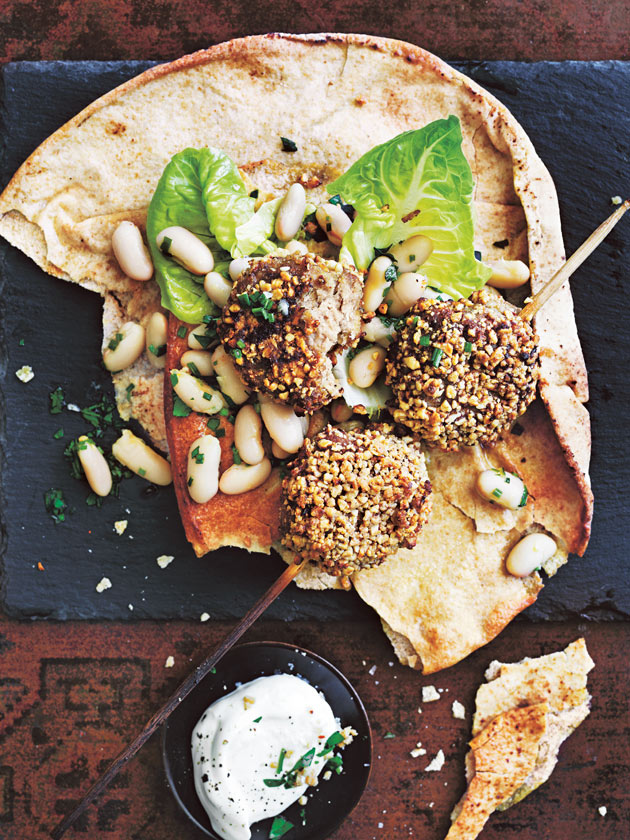 1 cup (140g) salted peanuts

½ teaspoon chilli flakes

sea salt and cracked black pepper

1 teaspoon mixed spice

¼ cup (25g) quinoa flakes

2 tablespoons milk

500g turkey mince

1 clove garlic, crushed

5cm-piece ginger, finely grated

2 large flatbreads

1 tablespoon extra virgin olive oil

8 baby gem cos (romaine) leaves

natural Greek-style (thick) yoghurt, to serve
bean salad
400g can white (cannellini) beans, drained and rinsed

1 cup flat-leaf parsley leaves, chopped

2 tablespoons finely chopped chives

1 tablespoon lemon juice

1 tablespoon extra virgin olive oil

Preheat oven to 220°C (425°F). Place the peanuts, chilli, salt, pepper and half the mixed spice in a small food processor and process until finely chopped. Place on a plate and set aside.

Place the quinoa and milk in a large bowl and set aside for 5 minutes to absorb. Add the turkey, garlic, ginger, salt, pepper and remaining mixed spice. Stir well to combine. Roll 2 tablespoons of the mixture to make 16 patties.

Press the patties into the nut crumb to coat and thread the patties onto 8 soaked bamboo skewers. Place on a well greased large oven tray. Cook for 20–22 minutes or until cooked through.

Lightly brush the flatbread with the oil and place on an oven tray. Cook for 4–5 minutes or until lightly golden and crunchy.

To make the bean salad, place the beans, parsley, chives, lemon juice, oil, salt and pepper in a medium bowl and toss to combine.

Serve the skewers with the lettuce, bean salad, flatbread and yoghurt. Serves 4.

There are no comments for this entry yet.