three-seed choc bars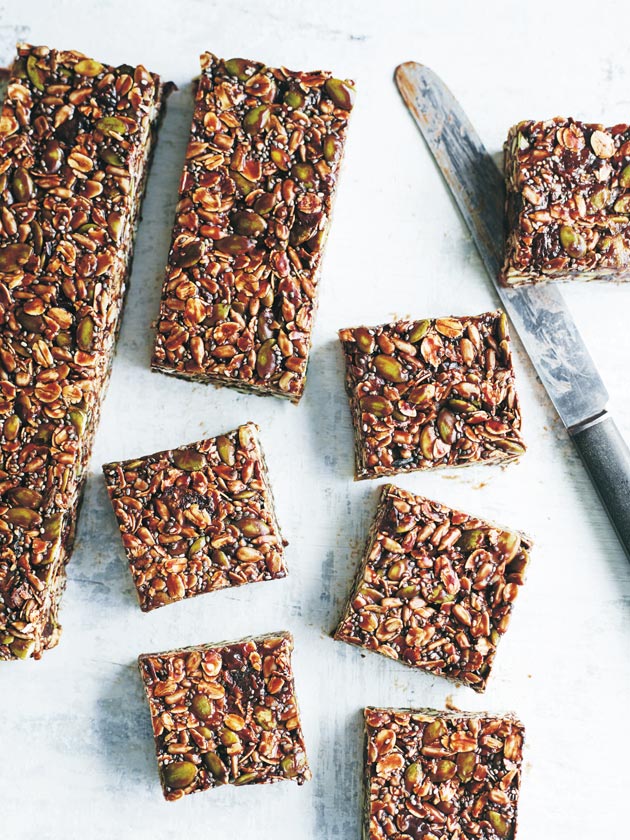 ⅓ cup (35g) raw cacao powder

1 cup (160g) pepitas (pumpkin seeds)

1 cup (160g) sunflower seeds

1 cup (120g) rolled oats

¼ cup (50g) black chia seeds

10 fresh dates (150g), pitted and roughly chopped

¾ cup (180ml) rice malt syrup

2 tablespoons coconut oil

Lightly grease a 20cm x 20cm slice tin and line with non-stick baking paper.

Place the cacao, pepitas, sunflower seeds, oats, chia and date in a large bowl and toss to combine.

Place the syrup and coconut oil in a medium saucepan over high heat. Cook, whisking, for 4 minutes or until bubbling. Working quickly, add the cacao mixture and stir to combine. Pour into the tin and press down firmly, smoothing with the back of a spoon. Refrigerate for 1 hour or until firm. Cut into squares. Refrigerate for 1 minute or until the chocolate has set.
Makes 16 squares.
Tip: Store refrigerated in an airtight container for up to 10 days.
There are no comments for this entry yet.