puffed brown rice and sunflower seed bars
with cashew butter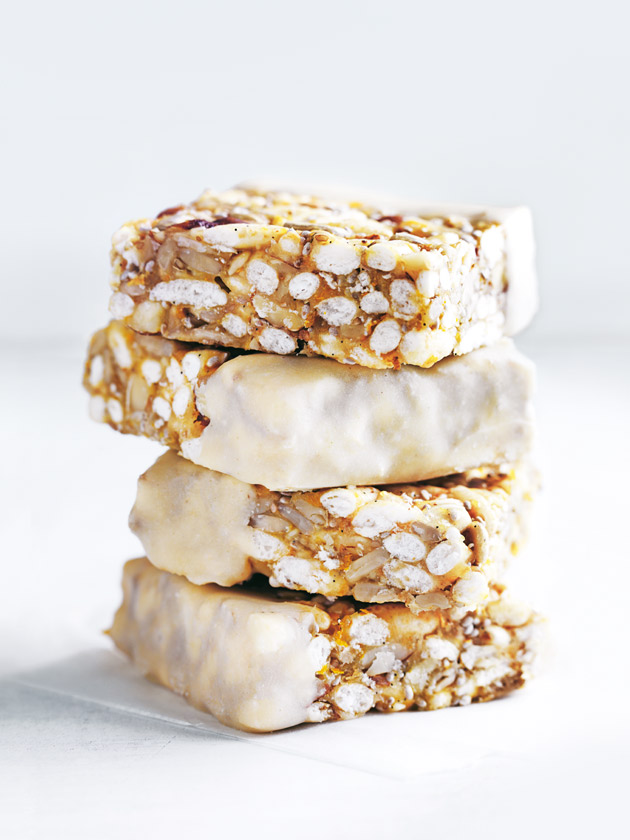 ⅓ cup (115g) honey

1 teaspoon vanilla bean paste

½ cup (140g) cashew spread

¼ cup (50g) coconut oil

1¼ cups (20g) puffed brown rice

½ cup (70g) hazelnuts

2 teaspoons finely grated orange rind

½ cup (80g) sunflower seeds

2 tablespoons white chia seeds

Place the honey, vanilla, half the cashew spread and 2 tablespoons of the coconut oil in a medium saucepan over high heat. Cook, whisking, for 4 minutes. Remove from the heat and, working quickly, add the puffed brown rice, hazelnuts, orange rind, sunflower seeds and chia and stir well to combine.
Firmly press the mixture into a lightly greased 20cm square tin, lined with non-stick baking paper. Place in the freezer for 20 minutes or until firm. Slice into bars.

Place the remaining cashew spread and remaining coconut oil in a small bowl and whisk to combine.
Dip one end of 1 of the bars into the mixture, allowing the excess to drip off, then place on a large baking tray lined with non-stick baking paper.
Repeat with the remaining bars. Place in the freezer for 10 minutes or until set. Serve. Makes 16.

Tip: You can store these bars in an airtight container in the refrigerator for up to 5 days.
There are no comments for this entry yet.