za'atar lamb skewers
with whipped feta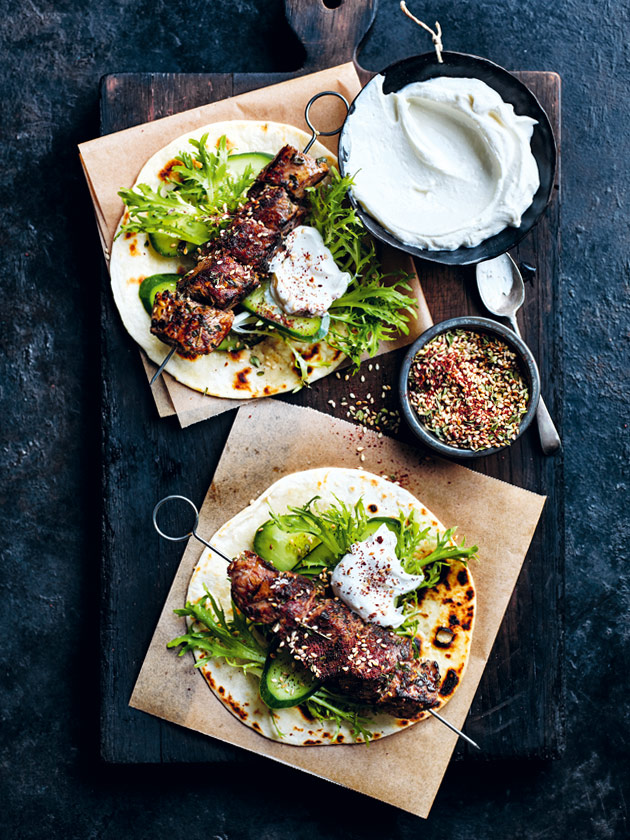 700g lamb backstrap (loin), cut into chunks
2 tablespoons chopped oregano leaves
2 teaspoons finely grated lemon rind
4 cloves garlic, crushed
2 tablespoons extra virgin olive oil
cracked black pepper
200g soft feta

½ cup (125g)

Farmer's Union Greek Style Yogurt
warm flatbread, lettuce and cucumber, to serve
za'atar
1 tablespoon dried thyme leaves+
2 tablespoons sesame seeds, lightly toasted
2 tablespoons sumac
½ teaspoon sea salt flakes
To make the za'atar, place the thyme, sesame seeds, sumac and salt in a bowl and mix to combine.
Combine lamb, oregano, lemon rind, garlic, oil, 1 tablespoon za'atar+, salt and pepper in a bowl. Allow to marinate for 15 minutes.
Heat a non-stick frying pan over high heat.
Thread lamb onto 8 metal skewers and cook for 6–8 minutes, turning occasionally, until cooked.
Whisk feta and yogurt together. Top flatbreads with lettuce, cucumber, lamb skewers, the whipped feta and extra za'atar. Serves 4
COOK'S NOTES
+ This recipe is, essentially, just a simple mix of herbs and spices, so it is important to source quality ingredients. Specialty stores and online specialty spice merchants are my preferred go-tos.
++ The za'atar recipe makes ½ cup (30g) and the remaining can be stored in an airtight container in the refrigerator for up to 2–3 months.
Photography: Chris Court
There are no comments for this entry yet.