no-fuss flatbread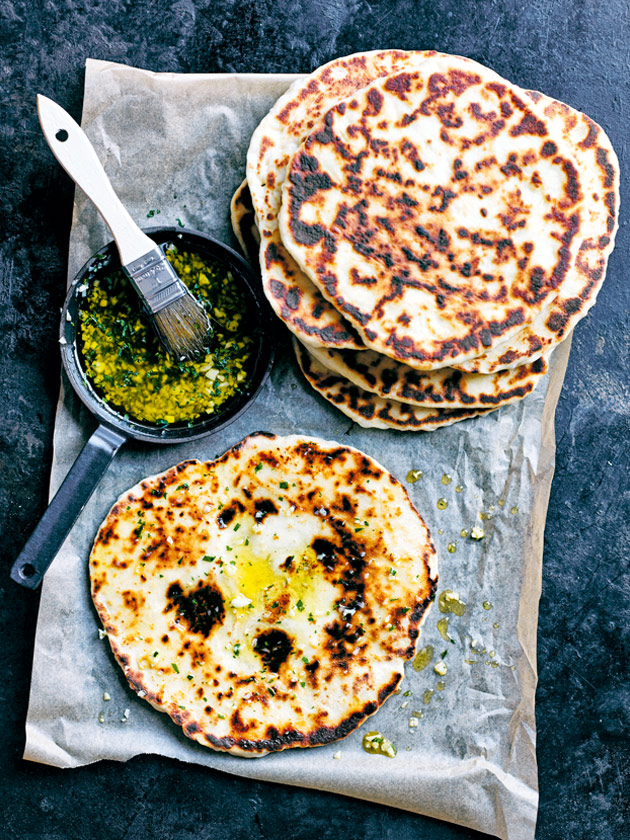 2 cups (300g) plain (all-purpose) flour, plus extra for dusting
3 teaspoons baking powder
1¼ cups (310g) Farmer's Union Greek Style Yogurt
½ teaspoon table salt
extra virgin olive oil, for brushing
garlic and parsley oil
⅓ cup (80ml) extra virgin olive oil
4 cloves garlic, finely chopped
1 tablespoon finely chopped flat-leaf parsley leaves
Place the flour and baking powder in a bowl and mix to combine. Add the yogurt and salt and mix until a rough dough forms+.
Turn dough out onto a lightly floured surface and divide into 6 equal portions. With lightly floured hands, roll each portion into a ball, then lightly dust in the extra flour. Roll each ball between sheets of non-stick baking paper to an 18cm (7 inch) round.
To make the garlic and parsley oil, place the oil, garlic and parsley in a bowl and mix to combine. Set aside.
Heat a non-stick frying pan over high heat. Brush one side of the flatbread with olive oil and cook, in batches, for 40 seconds–1 minute. Brush the other side with oil, flip and cook for a further 1 minute or until cooked through and charred.
Transfer the flatbread to wire racks and brush with the garlic and parsley oil while hot, if desired. Serve warm. Makes 6
COOK'S NOTES
+ For the fluffiest results, keep the dough as wet as possible, and try not to overwork the dough when rolling it.
Store the flatbread in an airtight container in the refrigerator for up to 2 days.
Photography: Chris Court
There are no comments for this entry yet.