crispy chilli oil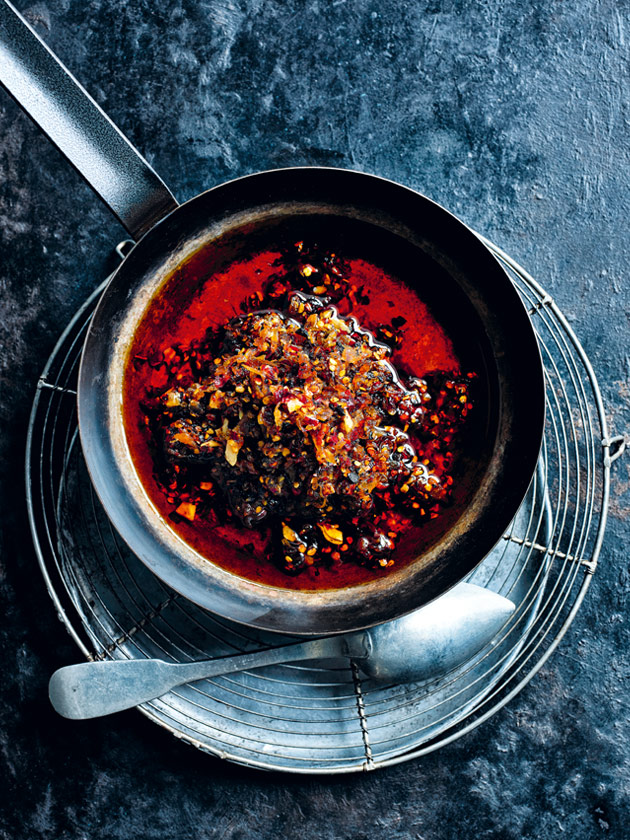 1 cup (250ml) vegetable oil
6 eschalots, thinly sliced
10 cloves garlic, thinly sliced
¼ cup (25g) dried chilli flakes
¼ cup (60ml) sesame oil
2 tablespoons firmly packed brown sugar
1 tablespoon fermented black beans+, finely chopped
1 teaspoon sea salt flakes
Heat a large frying pan over medium heat++.
Add the oil and heat for 1 minute. Add the eschalots and garlic and cook for 12–15 minutes, stirring frequently, until lightly golden and the garlic is crispy.
Remove from the heat and stir through the chilli, sesame oil, sugar, fermented black beans and salt. Transfer to a sterilised glass jar+++. Makes 1½ cups (375ml)
COOK'S NOTES
+ Fermented black beans, sometimes called salted black beans, are found in the Asian section of some supermarkets and at Asian grocers.
++ This recipe is sponsored by Miele.
+++ It is essential to sterilise jars thoroughly and store crispy chilli oil in the refrigerator to reduce the risk of foodborne illnesses such as botulism. When using the chilli oil, don't leave the jar out at room temperature for too long. You can keep this in a sterilised glass jar in the refrigerator for up to 1 month. To sterilise glass jars, preheat oven to 120°C (250°F). Wash the jars and their metal lids in soapy water, rinse and place on a baking tray. Place in the oven for 20 minutes. Remove and allow to cool before filling.
Photography: Chris Court
There are no comments for this entry yet.