roast garlic chicken on potato and leek gratin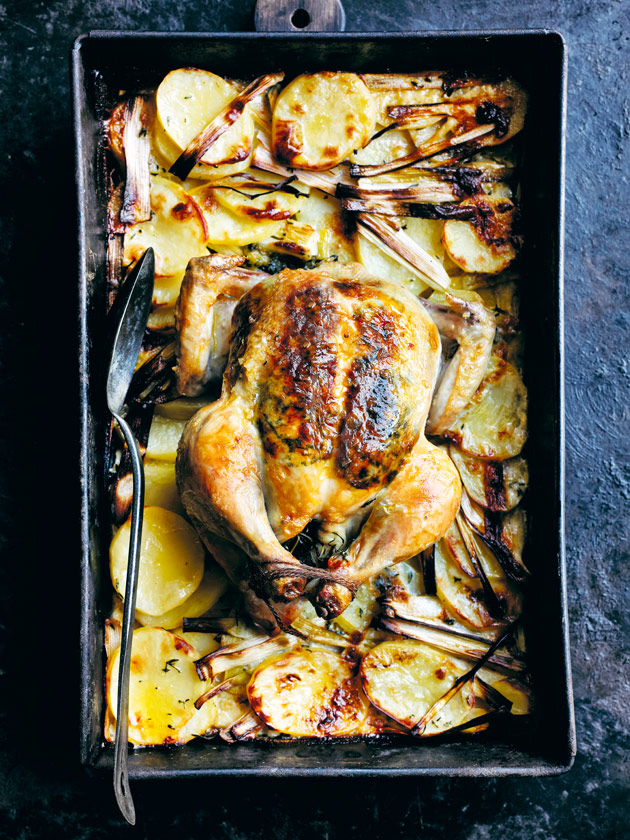 1 tablespoon chopped tarragon leaves, plus 4 sprigs, extra
80g unsalted butter, softened
sea salt and cracked black pepper
1 x 1.3kg whole chicken
½ lemon, cut into wedges
extra virgin olive oil, for drizzling
roast garlic
3 large heads garlic
extra virgin olive oil, to drizzle
sea salt flakes
potato and leek gratin
1kg starchy potatoes, peeled and thinly sliced
2 leeks, trimmed and cut into thin strips
1 tablespoon thyme leaves
1¼ cups (310ml) hot pure cream
To make the roast garlic, preheat oven to 180°C (350°F) +.
Place each head of garlic on a sheet of aluminium foil. Drizzle with oil, sprinkle with salt and wrap to enclose.
Place on a baking tray and roast for 40 minutes or until soft and golden.
Cool for 10 minutes, then squeeze the garlic from their skins and transfer to a sterilised glass jar++. Discard the garlic skins.
Combine 2 tablespoons mashed roast garlic, tarragon, butter, salt and pepper. Loosen the skin over the chicken breast.
Using a small spoon, place the garlic butter under the skin of the chicken.
Fill the cavity of the chicken with the extra tarragon sprigs and the lemon. Tie the legs together with kitchen string. Sprinkle chicken with salt and pepper and drizzle with oil.
To make the potato and leek gratin, place the potato, leek and thyme in a deep 25cm x 30cm (10 inch x 12 inch) baking dish. Pour the hot cream over.
Place the chicken on top of the gratin and roast for 1 hour or until the chicken and potatoes are tender and cooked through. Serves 4
COOK'S NOTES
+ This recipe is sponsored by Miele.
++ The roast garlic recipe makes ⅓ cup (100g) and the remaining can be stored in a sterilised glass jar. It is essential to sterilise jars thoroughly and store roast garlic in the refrigerator to reduce the risk of foodborne illnesses such as botulism. When using the garlic, don't leave the jar out at room temperature for too long. You can keep this in a sterilised glass jar in the refrigerator for up to 2 weeks. To sterilise glass jars, preheat oven to 120°C (250°F). Wash the jars and their metal lids in soapy water, rinse and place on a baking tray. Place in the oven for 20 minutes. Remove and allow to cool before filling.
Photography: Chris Court
There are no comments for this entry yet.