how to: vegan pesto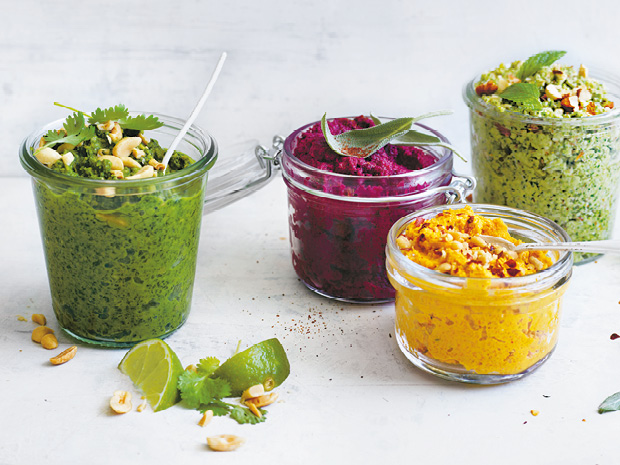 There's nothing like a fresh, homemade pesto to uplift meals to gourmet status, and these dairy-free recipes are a perfect match for pasta, noodles, grilled vegetables and more.
​You can serve these tasty, nutritious pestos in a multitude of ways. We love them tossed through buckwheat noodles, spread on a sandwich or drizzled as a salad dressing. And, these dairy-free pestos are fantastic for sharing with lactose-intolerant guests. Best of all, they double as a dip, perfect for entertaining! Try four spins on this delicious dressing-turned-dip and see which pesto you love most:
BROCCOLI, TOASTED ALMOND AND MINT PESTO
SPINACH, PEANUT AND CORIANDER PESTO
CARROT, CARAWAY, PINE NUT AND CHILLI PESTO
BEETROOT, WALNUT, SAGE AND SUMAC PESTO

COOK'S TIP:
Each pesto will keep in an airtight container in the refrigerator for up to 5 days.