mushroom and butter bean balls
with creamy mustard sauce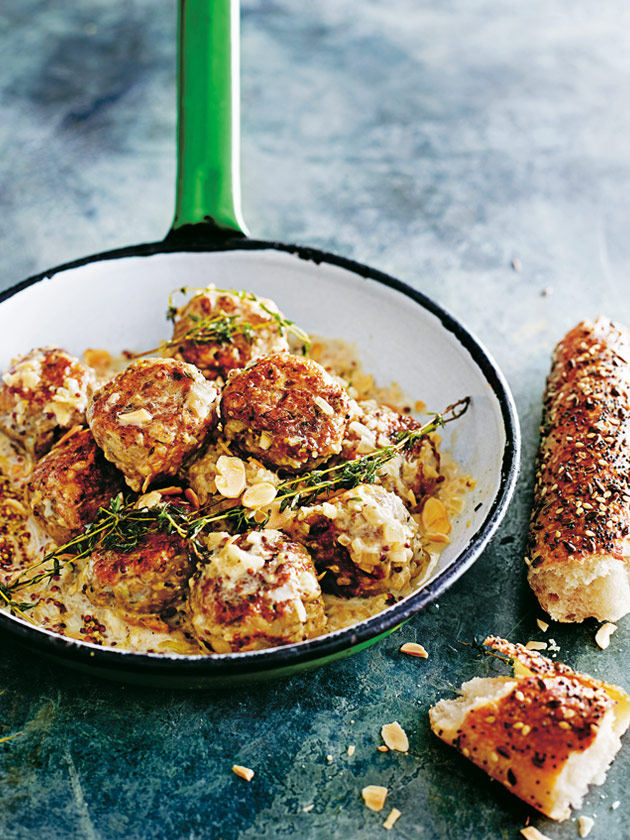 150g brown mushrooms

400g can butter (lima) beans, drained and rinsed

1 teaspoon thyme leaves, finely chopped, plus extra sprigs to serve

1 clove garlic, crushed

1 green onion (scallion), thinly sliced

1 teaspoon sea salt flakes

½ teaspoon cracked black pepper

1 cup cooked brown rice+

1 egg

½ cup (75g) wholemeal (whole-wheat) flour

2 teaspoons extra virgin olive oil

1 brown onion, finely chopped

2 cloves garlic, extra, crushed

2 cups (500ml) almond milk

1 tablespoon seeded mustard

⅓ cup (25g) flaked almonds

toasted seeded bread, to serve

Place the mushrooms in a food processor and pulse until roughly chopped. Place in a large bowl. Place the beans in the food processor and process until smooth. Transfer to the bowl.

Add the chopped thyme, garlic, green onion, salt, pepper, rice, egg and flour. Stir well to combine. Using wet hands, roll tablespoons of the mixture into balls.

Heat the oil in a large frying pan over high heat. Add the brown onion, extra garlic and thyme sprigs and cook, stirring, for 4 minutes. Add the mushroom balls and cook,turning, for a further 2 minutes or until lightly golden.

Add the milk, mustard, salt and pepper and cook for 10 minutes, turning. Remove from the heat. Top with almonds and serve with seeded bread. Serves 4.
+ ½ cup (100g) uncooked brown rice makes 1 cup cooked rice.
There are no comments for this entry yet.