The perfect spring soiree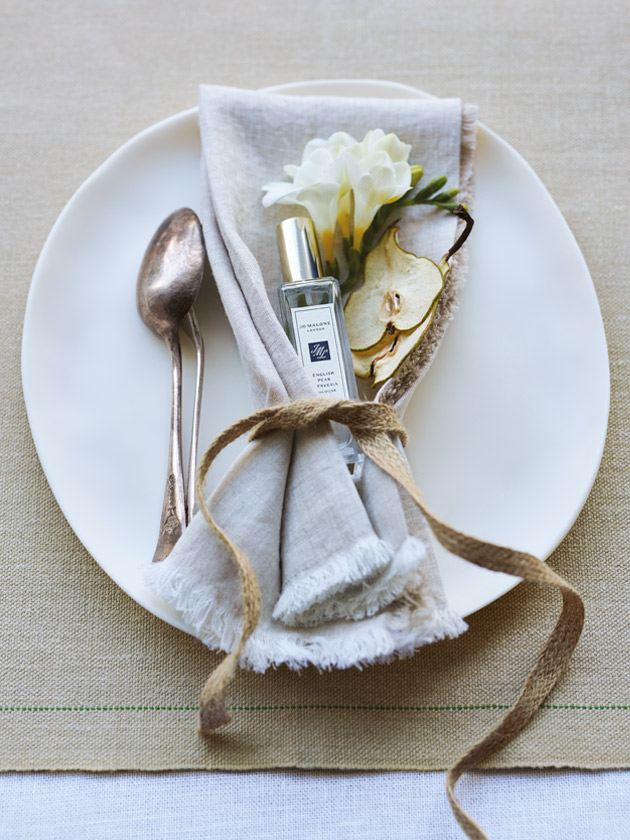 Creating a sensory entertaining experience from seeing, smelling and touching ingredients in new ways is one of my favourite tricks for elevating an occasion.
Styling the centrepiece
Inspired by the delicate beauty of Jo Malone's English Pear and Freesia fragrance, I layered creamy freesias with crisp pears and fresh pear blossoms, finishing with Jo Malone's home candles to set the tone for the deliciousness ahead.
Welcome drink
Taking our flavour cues from the sweetness of just-ripe pears and the fresh floral scent of freesias, my crisp and subtly sweet peartini is the perfect soiree starter.
Delicate dessert
With cloudlike meringue, fragrant vanilla-poached pears and warm flaked almonds, this is the dessert equivalent of a springtime stroll through an English garden.
Surprising your guests
Designed for gifting, we wrapped individual Jo Malone fragrances and freesias in crisp linen napkins, creating a luxe tablescape that matched the dreamy pear-themed meal, while gifting guests a lasting token to remember the occasion by.
Inspired by the classic Jo Malone London English Pear and Freesia fragrance, I curated a spring-themed menu that embodied the light playfulness of the scent, featuring a delicate almond meringue with billows of fresh mascarpone and poached vanilla pears, an uplifting peartini and a refreshing pear sorbet.
Designed for gifting, we used the Jo Malone fragrance as a luxe finishing touch to the tablescape by wrapping individual fragrances in a crisp linen napkin with the subtly sweet freesia stem, securing it with hessian ribbon to keep with the spring garden theme.
Whether it's a special occasion or a mid-week celebration, these finishing touches will elevate any table and create a memorable sensory dining experience.
In partnership with Jo Malone