banana, hazelnut and chocolate bread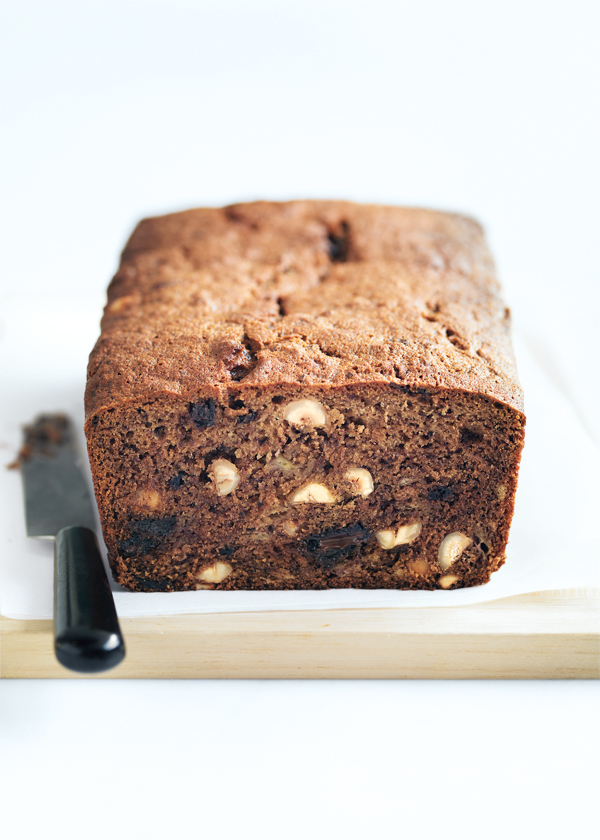 125g butter, softened
1 cup (175g) brown sugar
1 teaspoon vanilla extract
2 eggs
2 cups mashed banana
½ cup (70g) toasted hazelnuts, chopped
1 cup (90g) chopped dark chocolate
1¾ cups (255g) plain (all-purpose) flour, sifted
1 teaspoon baking powder, sifted
1 teaspoon bicarbonate of (baking) soda
1 teaspoon ground cinnamon
⅓ cup (115g) golden syrup

Preheat oven to 160°C (325°F). Place the butter, sugar and vanilla in an electric mixer and beat for 8–10 minutes or until pale and creamy. Scrape down the sides of the bowl.

Gradually add the eggs and beat well to combine. Add the banana, hazelnuts, chocolate, flour, baking powder, bicarbonate of soda, cinnamon and golden syrup and stir to combine.
Spoon the mixture into a 26cm x 11cm (2.5 litre-capacity) lightly greased loaf tin lined with baking paper. Bake for 70–75 minutes or until cooked when tested with a skewer.

Cool in the tin for 20 minutes before turning out onto a wire rack to cool completely. Slice to serve. Serves 6–8.

Antony Stavri
Delicious banana bread, but requires longer cooking or a higher temperature. I cook mine at 180 for 75 mins.
Alana Freeman
A delicious recipe but needs cooking for 85-90minutes. I took mine out of the oven at around 80 minutes and it was undercooked :( I'd also suggest upping the temp by 5 degrees or so.
Sarah Smith
Best banana bread! Don't be put off by the low ratings - I have made this at least five times for different people, and it has always turned out well with people asking for the recipe. This is a take on the classic 'banana bread' recipe by Donna which is rated well. Delicious!