hazelnut hotcakes with warm maple dates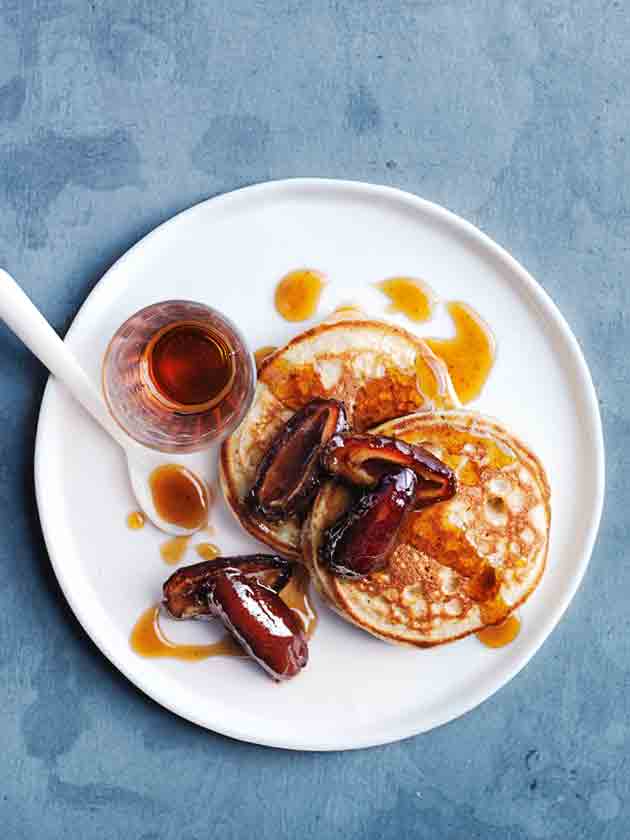 ¾ cup (110g) self-raising (self-rising) flour, sifted

½ teaspoon bicarbonate of (baking) soda, sifted

½ teaspoon baking powder, sifted

¼ cup (55g) caster (superfine) sugar

¼ cup (25g) hazelnut meal (ground hazelnuts)

¾ cup (180ml) buttermilk

2 eggs, separated

unsalted butter, melted, for brushing

1 cup (180g) fresh dates, pitted and halved

¼ cup (60ml) maple syrup

Place the flour, bicarbonate of soda, baking powder, sugar, hazelnut meal, buttermilk and egg yolks in a large bowl and whisk until smooth.

Place the eggwhites in a clean bowl and whisk until stiff peaks form. Fold the eggwhites into the flour mixture.

Place a large non-stick frying pan over medium heat. Brush with butter and reduce heat to low. Cook 2 tablespoons of the mixture, in batches, for 3 minutes each side or until golden brown. Set aside.

Place the dates and maple syrup in the pan and cook for 1 minute or until warm. Serve the hotcakes with the warm maple dates. Makes 10.

There are no comments for this entry yet.