caramel cookies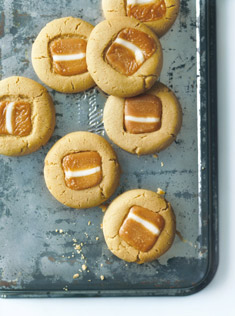 60g unsalted butter

⅓ cup (115g) golden syrup

⅓ cup (60g) brown sugar

1½ cup (225g) self-raising (self-rising) flour, sifted

8 soft caramel candies, halved

Preheat oven to 180ºC. Place the butter, golden syrup and sugar in a saucepan over low heat and stir until the sugar is dissolved. Set aside to cool. Add the flour to the butter mixture and mix until a smooth dough forms.
Roll tablespoonfuls into balls and place on baking trays lined with non-stick baking paper. Press to flatten and top each with half a caramel candy. Bake for 10–12 minutes or until golden. Allow to cool on the trays. Makes 16.

Belinda Planer
These turned out great! They taste amazing!