chocolate chip cookies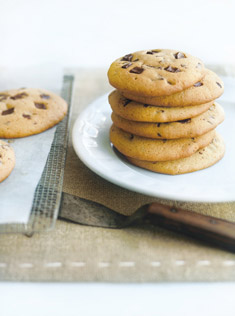 180g unsalted butter, softened

¾ cup (135g) brown sugar

1 teaspoon vanilla extract

2 eggs

2 cups (300g) plain (all-purpose) flour, sifted

1 teaspoon baking powder, sifted

150g dark chocolate, chopped

Preheat oven to 180ºC. Place the butter, sugar and vanilla in the bowl of an electric mixer and beat until pale and creamy. Gradually add the eggs and beat well. Add the flour and baking powder and beat until a smooth dough forms. Fold through the chocolate.
Roll 2 tablespoonfuls of the mixture into balls, place on baking trays lined with non-stick baking paper and press to flatten. Bake for 12–15 minutes or until golden. Allow to cool on the trays. Makes 12.

Cassandra Sabharwal
This recipe was fantastic & a hit with my husband's work colleagues. I doubled the recipe, substituted unsalted for salted butter, as well as dark chocolate for milk, white and dark chocolate bits. I also made the dough in advance, refrigerated it for and hour & then made slightly smaller cookies & ended up with 70! I will definitely be using this recipe again & sharing it with my family & friends!
donna hay team
Hi Sarah, you can freeze the un-cooked mixture and bake the cookies from frozen allowing 2-4 minutes longer in your cooking time. Enjoy!
Sarah Cable
Can the mixture be frozen and baked at another time?
Angelica Esdaile-watts
THIS RECIPE IS BOMBB a bit werid at first but as u add the flower and baking powder and mix it all together it taste better than the shop recipes!!! Couldn't stop eating it before and after it's cooked
donna hay team
Hi Sarah, yes they can - the texture might change slightly due to the nature of the gluten free flour. You may need to apply a little bit of trial and error with the quantity to get the right consistency. Good luck! The dh team
Sarah Burn
Can these cookies be made with gluten free flour?
Karen Russell
I've made this recipe a couple of times now. They're so quick to make and absolutely YUM! I make them smaller than suggested using a small melon scoop. Everyone just loves them.
Sarah Flanagan
I made these cookies this afternoon. I doubled the recipe to feed my large family and I have to say they are amazing. Crumbly and melt in your mouth. Big hit here and cannot wait to make them again.