chocolate hot cross cookies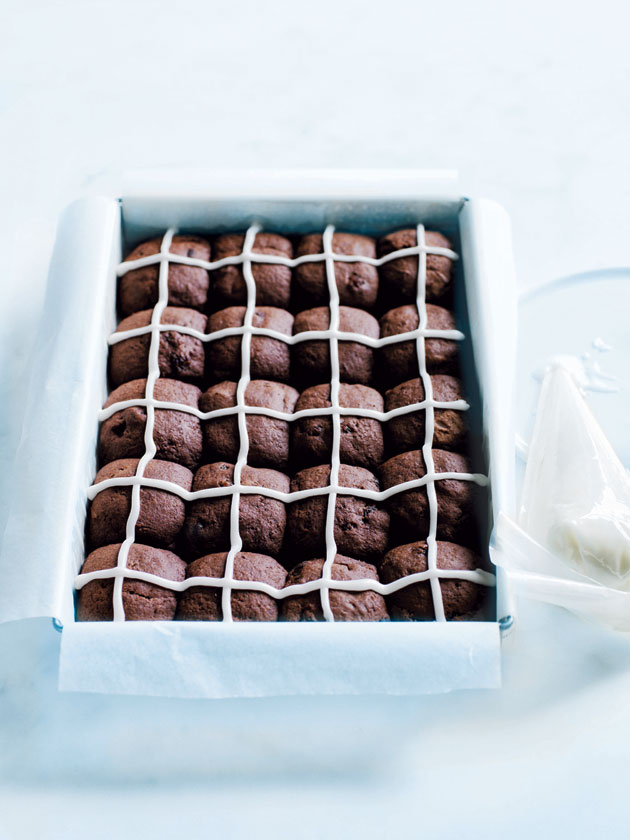 125g unsalted butter, softened
1 cup (175g) brown sugar
1 egg
1 teaspoon vanilla extract
2 cups (300g) plain (all-purpose) flour, sifted
1 teaspoon baking powder, sifted
¼ cup (25g) cocoa, sifted
2 teaspoons cinnamon
1 teaspoon mixed spice
½ cup (125ml) milk
½ cup (80g) sultanas
150g dark chocolate, chopped
1 cup (160g) icing (confectioner's) sugar, sifted
1 tablespoon boiling water
Preheat oven to 160°C (325°F). Place the butter and brown sugar in the bowl of an electric mixer and beat for 8 minutes or until pale and creamy. Add the egg and vanilla and beat well to combine. Add the flour, baking powder, cocoa, cinnamon, mixed spice, milk, sultanas and chocolate and beat on low speed until a dough forms.
Roll 2 tablespoons of the mixture at a time into balls and place in a lightly greased 20cm x 30cm tin lined with non-stick baking paper. Bake for 20–25 minutes or until cooked. Allow to cool completely in the tin.
Mix the icing sugar and water to form a paste. Place into a piping bag, snip a 5mm hole at the point and pipe a cross onto each cookie. Makes 20.

There are no comments for this entry yet.