chicken, broad bean and quinoa salad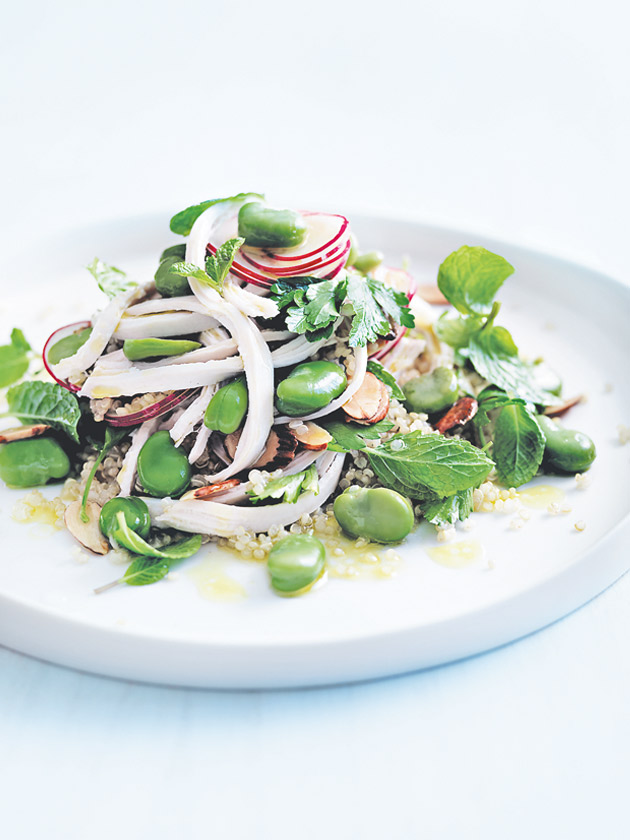 2 cups (380g) cooked quinoa+

400g chicken breast, cooked and shredded

1.2kg broad beans, shelled, blanched and peeled++

100g radishes, thinly sliced

¼ cup (20g) flaked almonds, toasted

1 cup flat-leaf parsley leaves

1 cup mint leaves

sea salt and cracked black pepper

2 tablespoons lemon juice

2 tablespoons extra virgin olive oil

Place the quinoa, chicken, beans, radish, almonds, parsley, mint, salt and pepper in a large bowl and toss to combine.

Place the lemon juice and olive oil in a small bowl and whisk to combine. Drizzle over the salad and toss well to combine. Divide the salad between 4 plates to serve. Serves 4.
+ You'll need 1 cup (200g) uncooked quinoa to get the 2 cups cooked quinoa required for this salad.
++ Depending on the age of your broad beans, you'll most likely need to shell the beans from their pods, and blanch them in salted boiling water for no more than 1 minute. Peel the grey skins to reveal the bright green beans, then refresh them under cold running water to halt the cooking process and retain their brilliant colour.
Tip: Broad beans are in season in spring. When they're unavailable fresh, you can buy them frozen at most supermarkets. Thaw the beans and use them as directed in the recipe.
There are no comments for this entry yet.