banana and peanut butter bread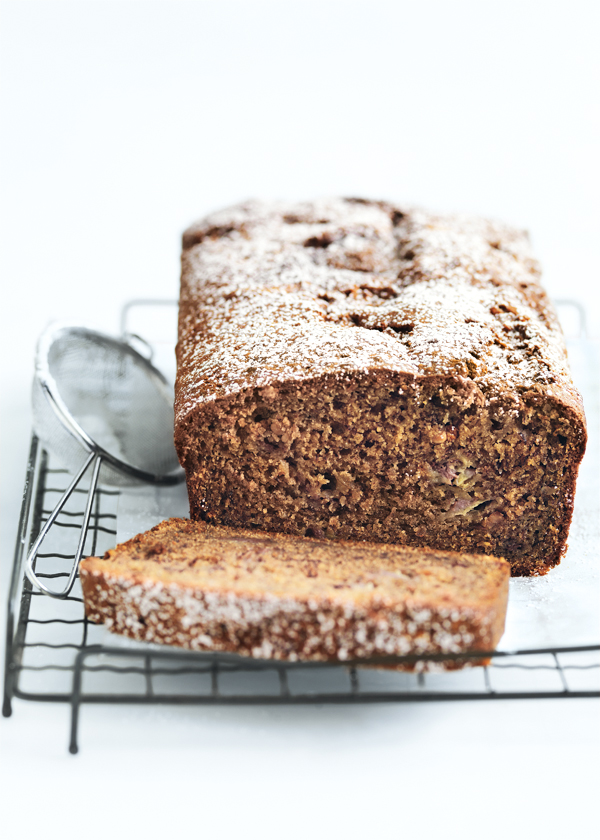 125g butter, softened
1 cup (175g) brown sugar
1 teaspoon vanilla extract
2 eggs
2 cups mashed banana
½ cup (140g) crunchy peanut butter
1¾ cups (255g) plain (all-purpose) flour, sifted
1 teaspoon baking powder, sifted
1 teaspoon bicarbonate of (baking) soda
1 teaspoon ground cinnamon
⅓ cup (80ml) maple syrup
icing (confectioner's) sugar, for dusting

Preheat oven to 160°C (325°F). Place the butter, sugar and vanilla in an electric mixer and beat for 8–10 minutes or until pale and creamy. Scrape down the sides of the bowl.

Gradually add the eggs and beat well to combine. Add the banana, peanut butter, flour, baking powder, bicarbonate of soda, cinnamon and maple syrup and stir to combine.
Spoon the mixture into a 26cm x 11cm (2.5 litre-capacity) lightly greased loaf tin lined with baking paper. Bake for 85–90 minutes or until cooked when tested with a skewer.

Cool in the tin for 20 minutes before turning out onto a wire rack to cool completely. Dust with icing sugar to serve. Serves 6–8.

Annette Watson
I made this tonight for my husband and he loved it. Hint of peanut butter and not too sweet. I will be making this again.
Ana Leao
Has anyone tried this with a fat other than butter?
Toni Fisher
Although it cracked on top - probably fan forced problem - it was moist and delicious and not over-sweet and I would make it again.
I have rarely made a really good cake in my life - but now I have a Stand Mixer I'm embarking on the pursuit of perfection. Thanks for the opportunity!
Erin Holt
Love this! Possibly the best banana bread I've ever made. Great that it's not super sweet