basic semifreddo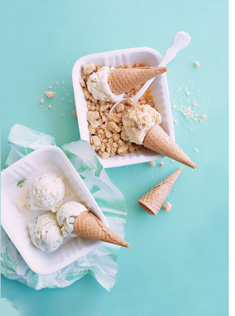 3 eggs

2 egg yolks extra

1 teaspoon vanilla extract

1 cup (220g) caster (superfine) sugar

2 cups (500ml) single (pouring) cream

Place the eggs, extra yolks, vanilla and sugar in a heatproof bowl. Place over a saucepan of simmering water and, using a hand-held electric mixer, beat for 6–8 minutes or until thick and pale. Remove from the heat and allow to cool slightly.

Whisk the cream until stiff peaks form. Gently fold through the egg mixture until well combined.

Pour into a 2 litre-capacity metal tin and freeze for 6 hours or overnight. Makes 2 litres.

+ This is the base we use in all our semifreddo recipes. You could create your own flavour by folding a range of fruit, spices or syrups through the mixture. Think passionfruit pulp, puréed mango or whole berries such as raspberries or blueberries.
There are no comments for this entry yet.