raw frozen yoghurt bar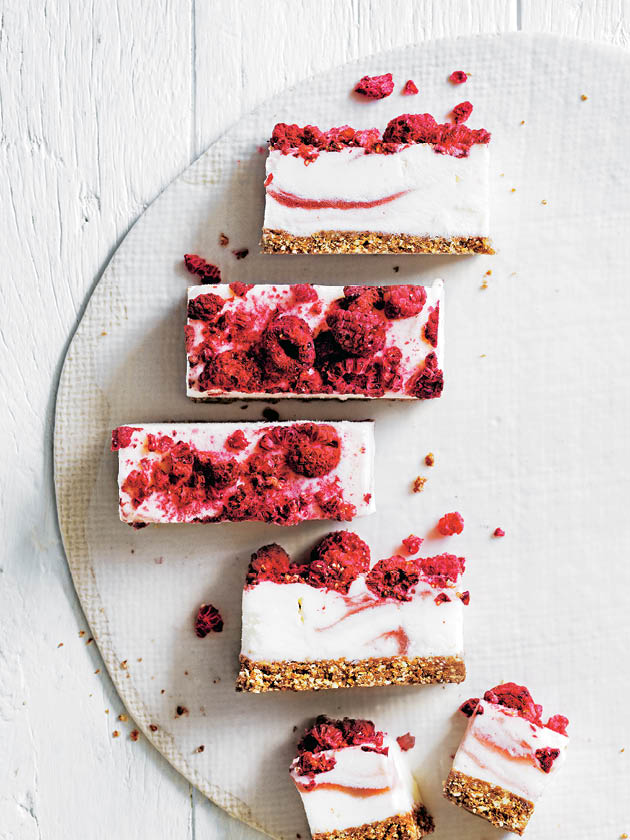 ¾ cup (120g) almonds

½ cup (40g) desiccated coconut

6 fresh dates (90g), pitted

1 tablespoon raw cacao powder

900ml tub Proud & Punch The More The Berrier Frozen Greek Style Yoghurt with Raspberry, Blueberry & Strawberry

1 cup (24g) freeze-dried raspberries+, roughly chopped

Place the almonds, coconut, dates and cacao in a food processor and process for 1 minute or until the mixture is finely chopped and sticks together.
Firmly press into a lightly greased 20cm x 20cm slice tin lined with non-stick baking paper and place in the freezer for 10 minutes.

While the base is setting, remove the frozen yoghurt from the freezer and set aside to soften at room temperature for 10 minutes.

Spoon the frozen yoghurt onto the base and spread evenly. Top with the freeze-dried raspberries and gently press into the frozen yoghurt.

Place in the freezer for 2 hours or until set. Cut into 5cm x 4cm bars and serve immediately. Makes 20.

+ Find freeze-dried raspberries in health food stores, or substitute with fresh raspberries.
Tip: Store these bars in the freezer for up to seven days.
There are no comments for this entry yet.