pistachio and lemon-crusted lamb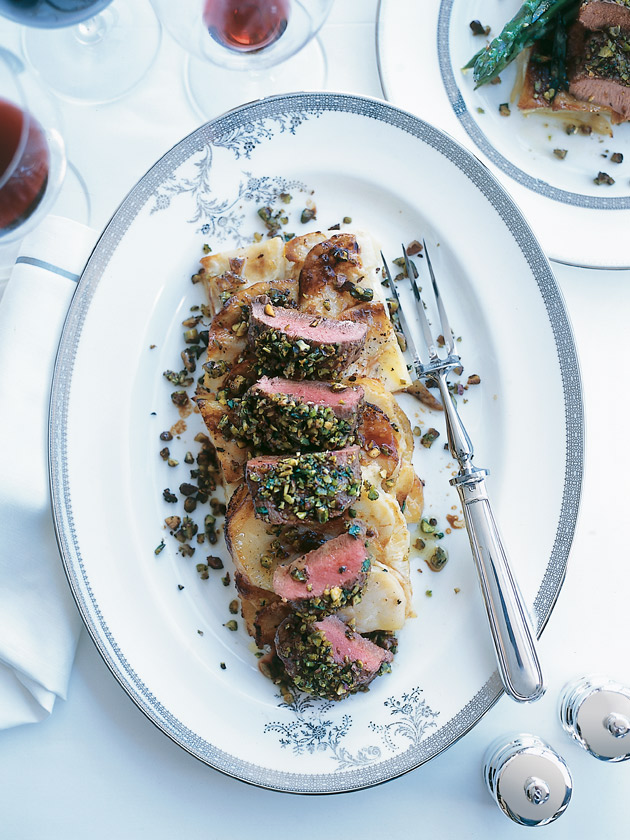 4 cloves garlic, crushed
2 tablespoons finely grated lemon rind
1 cup (140g) chopped pistachio kernels
⅓ cup chopped flat-leaf parsley leaves
⅓ cup chopped mint leaves
sea salt and cracked black pepper
8 x 300g lamb backstraps (boneless loin)
⅓ cup (80ml) olive oil

Preheat oven to 180ºC (355ºF). Place the garlic, lemon rind, pistachio, parsley, mint, salt and pepper in a bowl and stir to combine.
Tie the lamb with string and brush with half the oil. Press the pistachio mixture onto the lamb to create a crust and drizzle with the remaining oil.
Roast for 10–12 minutes or until the lamb is cooked to your liking. Serve with the celeriac gratin. Serves 12.

donna hay team
Hi Jessica, yes you can. You don't need to tie the lamb, just rub it with oil and press on the crust as per the recipe - it should hold. Good luck! The DH team
Jessica Jamieson
Is it possible to use lamb rack instead of backstrap? If so, how would you cook the meat to ensure the crust remained intact? Thanks!
donna hay team
Hi Charmaine, it is best to remove some of the fat before cooking. Rendering it first wont work well because the crumb will fall off during cooking. Good luck!
Charmaine Boocock
Hi Donna, I have lamb back straps with the fat layer still present. Would they still work ok with this receipe or should I try to render them first before roasting?
Jennifer Heath
I didn't mean to rate this 3+(not sure how it happened?)...it's a total 5+. Fantastic recipe. So easy, so delicious, so elegant. Thank you, Donna, for yet another amazingly simple dining experience!