baby asparagus with garlic oregano crumbs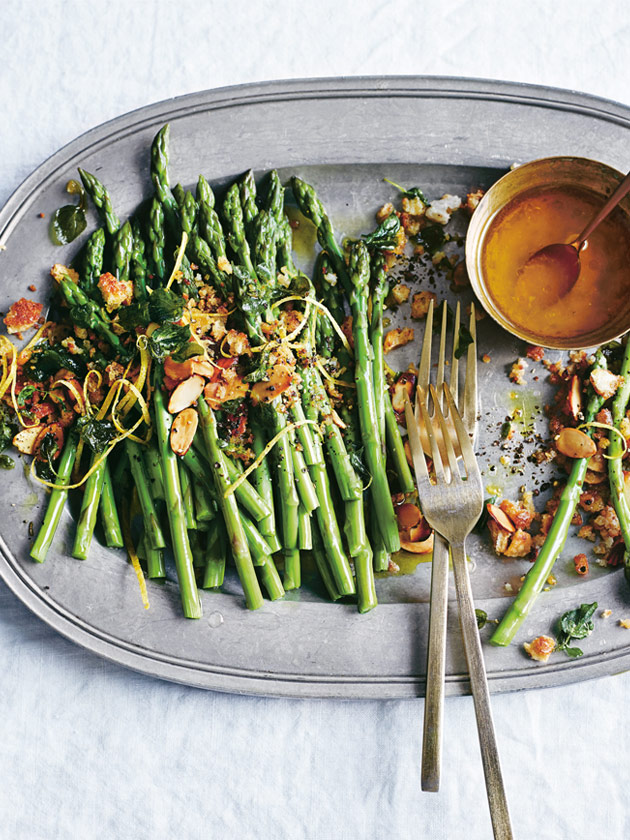 ⅓ cup (80ml) extra virgin olive oil

2 cups (140g) fresh sourdough breadcrumbs

½ cup oregano leaves

2 cloves garlic, crushed

sea salt and cracked black pepper

⅓ cup (25g) flaked almonds

600g baby asparagus (4 bunches)+, trimmed

1 tablespoon shredded lemon rind

1 tablespoon lemon juice

Heat half the oil in a large non-stick frying pan over high heat. Add the breadcrumbs, oregano, garlic, salt and pepper and cook, stirring, for
4–5 minutes or until lightly golden.
Add the almond and cook for a further 2–3 minutes or until the almond is toasted and the crumbs are crisp. Transfer to a small bowl and set aside.

While the breadcrumbs are cooking, cook the asparagus in a large saucepan of salted boiling water for 2 minutes or until tender. Drain well, place on a large serving platter, and sprinkle over the garlic oregano crumbs and lemon rind.
Place the lemon juice, salt, pepper and remaining oil in a small bowl, whisk to combine and drizzle over the asparagus to serve. Serves 6–8.

+ If you can't find baby asparagus, use
3 bunches of regular asparagus.
There are no comments for this entry yet.