apple sauce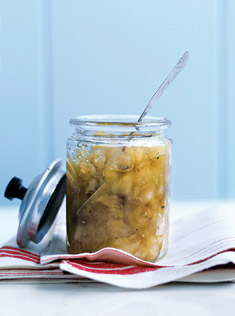 12 Granny Smith (green) apples peeled and chopped

⅔ cups (160ml) maple syrup

1 cinnamon stick

sea salt and cracked black pepper

Place the apple, maple syrup and cinnamon in a large saucepan. Cover with a tight-fitting lid and cook, stirring occasionally, for 20–25 minutes or until the apple is soft. Discard the cinnamon stick, add salt and pepper to the apple and crush with a wooden spoon.

Spoon into sterilised jars or clean containers and store in the refrigerator. Serve with roasted pork. Makes 3 cups.

+ You can make this apple sauce up to one week ahead.
Angelica Bolwerk
This is a a apple sauce, also kept a part with salt and pepper to put on oats or yoghurt, also taste great!!
Amanda Baker
This is such good apple sauce. My friends have requested this as their foodie gift this year.